Summit Europe 2017 Highlights: Building a Localization-Informed B2B Content Engine
Three out of four B2B organizations lack a formalized approach to defining and running their global content engines, causing them to underperform
At SiriusDecisions Summit Europe 2017, Christine Polewarczyk and Julian Archer shared how to build a strong, successful global B2B content engine
Leverage the SiriusDecisions Content Model and the SiriusDecisions Localization Model to help devise an efficient content localization strategy
Many architectural wonders of the world – Stonehenge, the Great Wall of China, the Great Sphinx and pyramids of Giza, the Roman Colosseum – are made of stone, yet each was built using different construction processes and methods. The resulting structures reflect creative designs that are heavily influenced by the local culture of the civilizations that built them.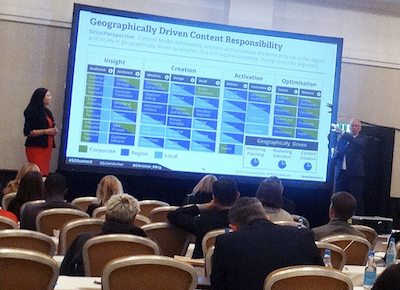 "Just as these stone structures all over the world represent their local culture, a B2B content engine must reflect the needs of its local markets," said Christine Polewarczyk during the session she co-presented yesterday with Julian Archer at SiriusDecisions' Summit Europe 2017 in London. "When content is not aligned to a strategic vision and blueprint and supported by aligned processes, content problems are the natural result."
Unfortunately, content quality, findability and relevance issues remain key challenges for the three out of four B2B organizations that lack a formalized approach to defining and running their global content engines, causing their content engines to underperform. Teams often work in siloes, content management barely exists, and misalignment and even friction about content needs and processes frequently exist between global, regional and local teams.
A strong and successful global B2B content engine is driven by a localization-informed content process and clearly defined roles and responsibilities. "As we try to grapple with the major headache of implementing an efficient content localization strategy that meets the requirements of multiple regions and countries," said Julian, "we must look to the key building blocks that will help us make sense of this." SiriusDecisions recommends leveraging the SiriusDecisions Content Model and the SiriusDecisions Localization Model.
How Do Organizations Know When and to What Extent to Localize?
Christine and Julian explained that two factors are vital when B2B organizations make content localization decisions. Marketing differentiation highlights the degree of similarity or difference in marketing tactics (i.e. same, similar, incremental or different) between two regions, while the localization spectrum defines the degree to which the content must be modified (i.e. for domestic use only, globally applicable but requires adaptation, requires translation and localization, or requires completely new content) to be effective in different geographies. By combining the localization spectrum and the appropriate level of marketing differentiation, organizations can identify their ideal localization model – centrally driven, content-centric, geographically driven or program-centric.
How Does Localization Affect Content Process Ownership?
The SiriusDecisions Content Model addresses process and responsibility assignment for the end-to-end content lifecycle. The impact of each of the four localization models on content processes can be described in terms of Content Model deliverables and activities:
Centrally driven content responsibility. The required localization is minimal, and marketing approaches are largely similar across different geographies. Content Model deliverables, activities and processes predominantly live in corporate, with just a few key activities still owned at the regional or local level. To avoid becoming too disconnected from regional and local market requirements, corporate should solicit regional/local participation in go-to-market planning and embed localization in upfront content strategy. To optimize content, ensure that process and performance metrics are being tracked to identify opportunities to improve efficiency.
Content-centric content responsibility. Minimal content localization is needed, but marketing programs must be differentiated to meet the needs of individual geographies. This approach allows regional and local content activation decisions to drive asset creation priorities that a centralized content factory supports. Go-to-market strategy, content and tactic planning are defined at the regional and local levels with a corporate overlay. Optimize content by delivering it in context (campaign-in-a-box) to promote optimal activation and measurement.
Geographically driven content responsibility. A high level of localization is needed, and marketing approaches differ by geography. Content Model deliverables, activities and processes predominantly live in the regions and locally, but still require consistent, strong corporate alignment. To prevent gaps in content competencies and processes that can create efficiency and execution challenges, regional and local teams must ensure that the corporate brand, message and goals are not lost in the go-to-market strategy. Regional content strategy and operations roles are critical to support process and measurement.
Program-centric content responsibility. Similar marketing approaches can be used across geographies, but content must be localized. While central teams create common tactic execution programs, regional and local subject matter experts are heavily involved in the content creation phase. Corporate largely drives go-to-market, campaign and content strategy decisions with input from regional and local, while regions share responsibility with corporate for asset management, systems, taxonomy and measurement.
What Is Content Strategy and Operations?
Content strategy and operations is a centralized function responsible for the cross-functional improvement of content quality, relevance, findability, process and measurement. Centrally driven and content-centric localization models are best supported by a centralized content strategy and operations structure that serves all regions and business units from corporate. Organizations that use a geographically driven or program-centric localization model require a hub-and-spoke content strategy and operations structure, which contains a corporate centralized team as well as regional-level teams that support the content creation in those regions.
In closing, Christine advised corporate marketing leaders to develop a content strategy and operations function and commit to removing confusion about content process ownership between corporate, regional and local teams. Regional and local marketing teams, Julian added, should provide fact-based input to help corporate select a localization model that reflects and supports regional and local realities. "Organizations should globally adopt a localization-informed content model," advised Christine, "to strengthen content quality, efficiency and business impact."
Categories