Summit Europe 2017 Preview: Q&A With Meta Karagianni
Summit Europe is the premier destination for Eurocentric B2B research and innovation
For a preview of what this event will offer, Ellen Lind interviewed Meta Karagianni, service director for SiriusDecisions
Among many other topics, Summit Europe attendees will learn how sales and marketing can work together to align with what buyers want
The eighth annual SiriusDecisions Summit Europe, which will be held in London on October 4–5, will provide two days of data-driven best practices research; the latest updates on innovations across the B2B space; and an opportunity to network with an elite community of European sales, marketing and product leaders. In the third of three interviews I conducted with Summit Europe presenters, I sat down recently with Meta Karagianni to get a glimpse into how this event will help attendees operationalize their organization's growth strategies in today's diverse European B2B markets.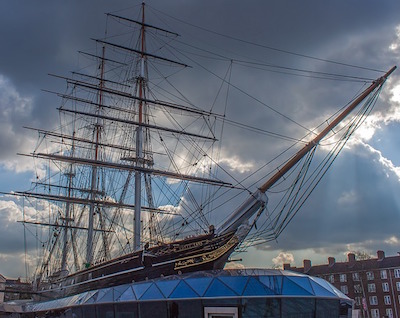 What are the biggest challenges facing marketing executives in Europe today?
When I work with CMOs and marketing leaders, one thing I see across organizations of different sizes from different industries is an attempt to transform the marketing capability and the marketing organization. That transformation has many faces. Some organizations are moving from selling individual products to selling solutions. Others are trying to manage a dual marketing machine and need to continue supporting their core business, which may be on-premise, while moving toward more SaaS-based business. Others, far more simply, are just starting the journey, and don't yet have a credible modern marketing organization in place. So, managing those transformations – and often the pace of that transformation is becoming faster and faster – is one of the key challenges for marketing leaders.
In transforming the organization, we're seeing that fundamental shift in thinking from being inward-driven to outward-driven, toward what we call audience-centricity. Again, that has many aspects. Many organizations are doing some great work – they're looking at building personas, they're revisiting their campaigns and campaign architecture, they're trying to become far more buyer-centric and customer-centric in the way they're targeting the campaign and the tactic mix and messaging they're using. But, we've found that despite all these good efforts, there's a fundamental architectural breakdown. Last year, we introduced our audience-centric go-to-market framework, and that started a lot of discussion among CMOs. So, in a lot of our conversations now, they're moving from understanding the concept to learning what they need to do to implement it. I often tell my CMOs and marketing leaders that they need to train new "muscles." At Summit Europe, we'll discuss the six muscles we've identified as critical in making that shift to audience-centricity a reality in B2B organizations.
Audience-centricity is not just a marketing aspiration or jargon. It's critical to corporate growth. Every year we conduct a CMO Study, and we just completed this year's effort. We got feedback from close to 270 CMOs and VPs of marketing, and 32 percent of those participants were from EMEA. For those EMEA participants, the top two drivers for how to grow the organization were going after new buyers and new markets. Pursuing new buyers was an even higher growth driver for those in EMEA than those responding from North America and APAC. To achieve that growth, we need to be more audience-centric. We need to create that deep understanding and alignment across the organization of the key audiences we're going to pursue to achieve those growth objectives.
Another aspect that is top of mind in our conversations with CMOs is how to best allocate and optimize marketing resources. Our 2017 CMO Study shows that CMOs and marketing leaders are particularly interested in strengthening or expanding the demand capabilities within the organization, investing in marketing operations, and installing or expanding customer marketing teams to focus on post-sale engagement. It's also encouraging to see that CMOs are not only starting to pay attention to marketing enablement, but also putting resources behind it. As B2B marketing evolves quickly, CMOs realize that they need to step up and drive a more systematic approach to marketing enablement. We're starting to see a clear ownership within the marketing organization around defining the required skills and competency maps, identifying the gaps, and driving the marketing enablement strategy forward.
Tell me a little about your Summit Europe session with Isabel Montesdeoca, "The 2017 European Buyer Insights Gap Index." What can attendees expect to take away from this presentation?
We're both very excited about this presentation. As I mentioned before, aligning the organization around the audience and driving a deep understanding of the audiences we're going after are absolutely critical. But many studies, including ones SiriusDecisions has conducted, have been focused only on one dimension. For example, we've examined the evolving B2B buying behavior, understanding actual buyer preferences; we've done studies to understand where marketers are spending their money and which efforts or tactics they find more effective in different stages of the buyer's journey; and we've done studies to understand how B2B sales reps are engaging with buyers. That's great work, but each of these studies is focusing only on one lens.
In this session, Isabel and I are going to combine these three types of data to determine where the gaps are and build a buyer insights gap index, which will show where an organization's functions are aligned or misaligned with each other and with the buyer. We'll break that down by each stage of the buyer's journey, understanding the implications for each function – sales, marketing and product – and what we need to do to drive greater alignment and, ultimately, business performance. This is little bit different from the standard buyer insights telling you what your audience wants; this focuses on how to give them what they want.
What one thing would you recommend Summit Europe attendees do in London in their free time?
I love the artistic side of London, so I would suggest attending a performance, like a musical. I also really enjoy visiting Cutty Sark in Greenwich. It's the original Cutty Sark, the world's only surviving tea clipper, that was originally designed to carry tea from England to China, but ultimately traveled the globe and visited every major world port throughout its varied history of transporting goods such as coffee, tea and silk. It's beautifully conserved and lifted above the ground so you can walk underneath it. While you're there, you can also visit the National Maritime Museum and learn all about life during that time.
Quick facts:
Event: SiriusDecisions Summit Europe 2017
Date: October 4–5, 2017
Location: Hilton London Metropole in London, England
Categories