Summit Europe 2016 Highlights: Customer Marketing – The Role of Regional Teams
Customer experience has become the critical differentiator in B2B buying decisions
In 2016 SiriusDecisions conducted the B2B Customer Experience Study of 650 B2B customers in the U.S. and Europe
In that study, we found that 81 percent of a buyer's vendor selection decision is based on customer experience
In B2B marketing, the need to optimize customer experience has become increasingly important as organizations gain insight into its powerful influence on both retention and future revenue growth and profits. Customer experience has become the critical differentiator in B2B buying decisions. In 2016 we conducted the SiriusDecisions B2B Customer Experience Study of 650 B2B customers, including European and U.S. participants. In that study, we found that 81 percent of a buyer's vendor selection decision is based on customer experience – including prior experiences of the buyer organization with the vendors under consideration, as well as the experiences of other customers that the buyer learns about.
Given that reality, it's no wonder marketing leaders worldwide are looking to focus on the post-sale experience. European marketing leaders reported in the SiriusDecisions 2016 CMO Study that improving customer experience is their second highest priority. Now more than ever, as Megan Heuer of SiriusDecisions explained today at Summit Europe 2016, having an effective customer marketing function to coordinate post-sale customer interactions and support customer growth is critical to the success of a company's overall customer experience efforts.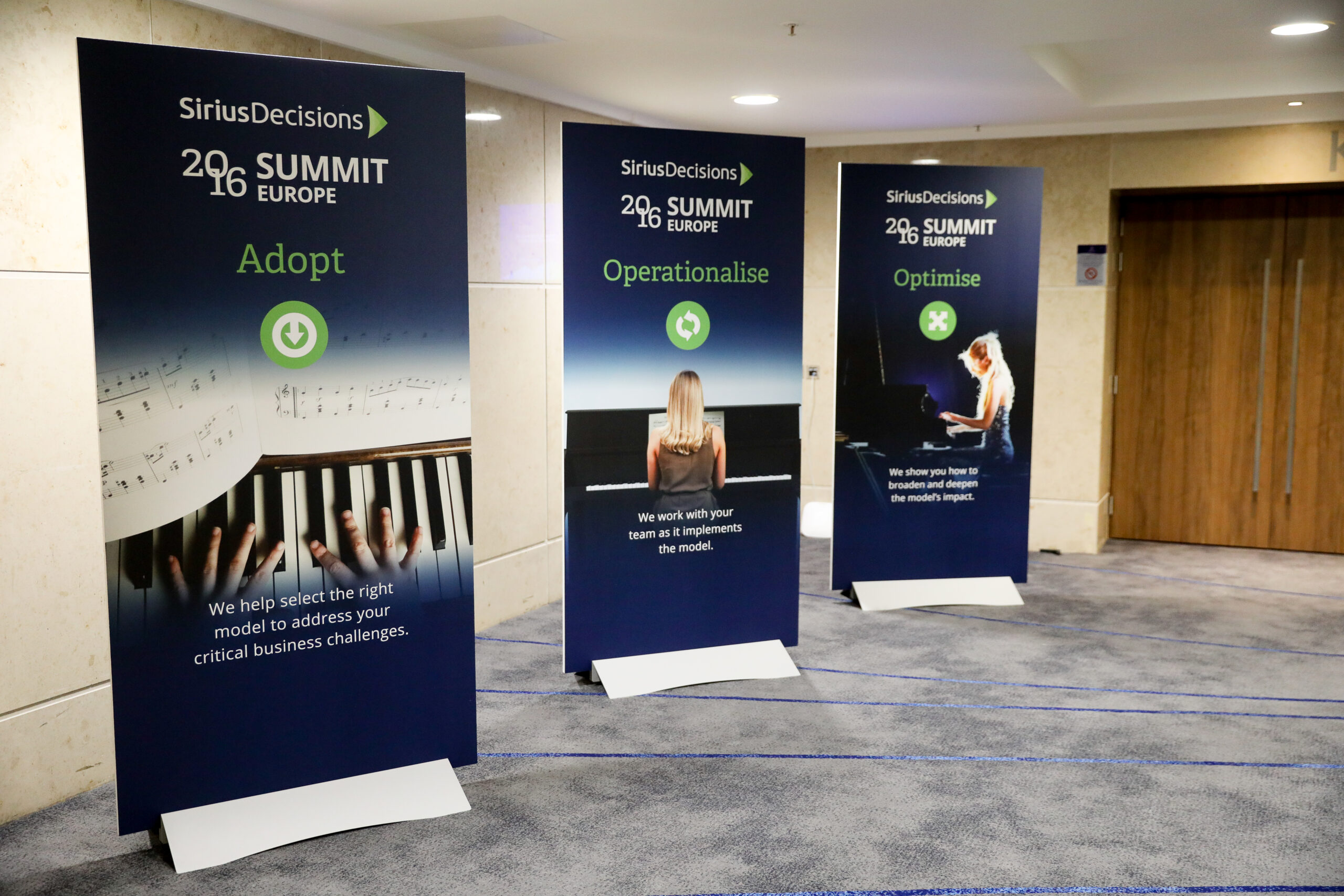 To help European marketing leaders successfully deploy customer marketing, Megan shared with the Summit audience a complete definition of B2B customer marketing capabilities, a framework for balancing central and regional strategies, and examples from organizations that achieved this balance.
"The correct alignment of corporate and regional efforts," Megan explained, "allows marketing to enhance the post-sale experience without duplicating efforts or making them too generic."
Customer Marketing: What It Does
Megan began her talk by defining the key activities, typical tasks and key priorities of customer marketing teams:
Voice of the customer (customer surveys, insights, Net Promoter Score). Voice-of-the-customer efforts require corporate oversight to ensure consistent customer experience and avoid redundant survey efforts.
Customer advocacy (reference development, advocacy management). Customer advocacy benefits from having strong regional involvement due to the relationship-building requirements of sales and customers.
Customer loyalty (adoption campaigns, journey mapping). To support loyalty goals, organizations must define where marketing's toolkit can support customer adoption in the context of the broader post-sale journey.
Customer community (online community management). Customer communities work best with strong corporate leadership that ensures a consistent experience and technology deployment.
Customer events (annual customer event, user groups). Customer event design is evolving from "one size fits all" to locally adapted agendas and outreach that reflect regional interests and preferences.
Customer growth (upsell and cross-sell programs). Customer marketing should partner with field marketing – or a corporate or regional demand center – to identify and pursue growth opportunities.
Evolving and Optimizing Customer Marketing
Megan proceeded to narrate how each of these customer marketing activities evolves through three stages of functional development – initial efforts; building scope and alignment; and complete functional scope and regional support – and how each stage is manifested in the domains of technology, process and organization for corporate and regional teams.
She then gave the Summit audience a wider context to think about these topics with recommendations for customer marketing measurement. The measures are aligned to the SiriusDecisions Aligned Measurement Framework. This framework looks at metrics across the metric classes of impact (i.e. effects on business goals), output (i.e. direct results of actions), activity (i.e. counts of actions taken) and readiness (i.e. preparedness to perform). By using this structure, organizations are able to track early progress, initial outcomes and long-term value.
Megan concluded her talk by citing specific actions that a B2B organization's revenue-generating functions should take to successfully deploy customer marketing programs. For example, customer experience leaders must ensure relationship insights are shared and used – and should focus on alignment rather than ownership. Sales must define roles that engage customers after a deal is closed, and work with marketing to provide the right resources across the post-sale lifecycle. Finally, product management should expand its focus to include post-sale needs and ensure that its innovation process includes post-sale planning.
Editor's Note: For more information about Summit Europe, click here. For information about upcoming SiriusDecisions events, visit SiriusDecisions' events page.
Categories