TechX 2015 Highlights: Are You Harnessing the Power of Your Data?
The new technology landscape has ushered in an exciting – but often frustrating – era in data management
Portfolio marketers must ensure the sales deck they provide reps contains quality data that facilitates the buying and sales processes
The secret to fixing your data and getting most out of it is data management – but what's the best way to go about it?
In just 15 years, the technology infrastructure at many B2B companies has undergone an incredible transformation. As John Donlon explained during his presentation at SiriusDecisions Technology Exchange today, the new technology landscape has ushered in an exciting – but often frustrating – era in data management.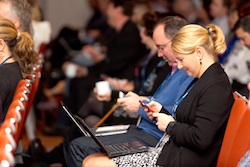 Back in 2000, technology infrastructure was centralized. IT owned and managed everything – from the typical homegrown systems to the cumbersome purchasing process for any software packages (which were hosted on-site). Data also existed in a very different form: it either remained siloed within various functions and not shared, or lived in a single massive enterprise software system.
These days, decentralization and interconnectedness dictate an entirely different technology landscape. With product launches, lead management, content creation and other activities happening across functions, data and systems must be shared.
We've also seen an enormous power shift in technology purchases. "Individual functions now have the flexibility buy essentially whatever technology they want to suit their needs," John said.
But as the famous line from the movie Spider-Man reminds us, "With great power comes great responsibility." As functions acquire their own software, they face much greater data complexity. Data problems – from simple gaps and inaccuracies to deep blind spots that result in huge missed opportunity costs – can proliferate. Meanwhile, teams face increasing accountability and pressure to deliver ROI on their activities and systems.
The secret to fixing your data and getting most out of it is, of course, data management. But what's the best way to go about it?
"A lot of times, we see organizations trying to solve their data issues by spinning up massive data governance or master data management committees," John said. Unfortunately, these governance efforts and committees often lack urgency, a specific plan, or any long-term connection with the rest of the organization."
Good data management must be structured yet agile. The SiriusDecisions Data Strategy Implementation Process, which John unveiled at the Technology Exchange, offers a blueprint designed to help organizations fully take advantage of the power contained in their data.
The process begins with the essential step of creating a data governance council, including its membership, goals, scope, and communications plan. After completing additional preparatory steps, organizations can begin auditing the current state of their data, and then start fixing any problems.
That's right – data cleansing and appending doesn't happen until nearly the end of the process. A common pitfall is to jump right into fixing data issues, but this fire-drill approach ultimately creates an unproductive, chaotic atmosphere. It's also quite costly.
As you might sense from this description, there are no shortcuts to an effective data governance process. With an objective, participants, inputs, tasks and deliverables required for each of the seven phases, the SiriusDecisions Data Strategy Implementation Process might initially look intimidating.
But it's a manageable undertaking, John reassured Technology Exchange attendees. "This can all happen quickly, and chances are, you probably have many of these required elements already in place," he said. "It's more a matter of addressing them with a little more structure."
And of course, the returns are significant. Although organizations often start by measuring their success by evaluating the health of databases themselves, the real benefits appear further downstream.
"Get your data house in order, and all of a sudden, that's rocket fuel for your sales, marketing and product processes," John said.
Categories