TechX 2015 Highlights: How Business Leaders Can Avoid Fooling Themselves With Analytics
At the 2015 Technology Exchange, Kerry Cunningham gave a talk on B2B analytics capabilities, which have evolved rapidly
Kerry focused on how B2B leaders and data experts can overcome common issues with analytics
There are many ways that analytics can yield answers to hard questions that can drive more effective decisionmaking and results
At the Technology Exchange 2015 conference in San Francisco today, Kerry Cunningham of SiriusDecisions gave a talk on B2B analytics capabilities, which have evolved rapidly in recent years.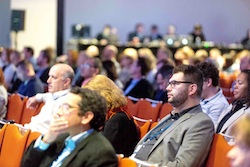 Kerry began his talk by invoking Feynman's First Principle, named after the Professor Richard Feynman, the 1965 Nobel Prize laureate in physics: "The first principle is that you must not fool yourself, and you are the easiest person to fool. So you have to be very careful about that."
Instead of focusing on technology features and functions, Kerry focused on how B2B leaders and data experts can overcome common issues with analytics that can cause them to fool themselves and fail to generate the positive impact on the business that they need.
"The proliferation of more and better data is fueling its use throughout the marketing, product and sales ecosystem," Kerry said. "Strong analytics capabilities are no longer a luxury – they are becoming table stakes for high-performance organizations. What you can know is rapidly changing what you must know."
For starters, business leaders must assess their analytics capabilities in the context of the critical decisions they are trying to support. "Understanding your current level of analytics proficiency is an important first step," Kerry said. "But you must also understand the levels of proficiency that are required to produce reliable answers to the hard questions that you need to answer."
Kerry prescribed a structured process – involving subject matter experts from marketing, sales and product teams – that organizations should use to identify and validate their most important business questions, assess whether they already have answers to those questions, and then determine their level of confidence in the accuracy of those answers.
"You need to focus your analytics efforts on questions that are important to the business where your confidence level in current answers is low," Kerry said. "Only by focusing on areas where analytics can make a real difference can the investment in these capabilities deliver the benefits you are looking for." Once an organization's key questions are identified, it can assess its data and analytics capabilities and add to those resources in a way that enables it to generate reliable answers.
Two additional competencies are required for organizations using analytics: statistical interpretation skills, and communicating insights in a way that inspires appropriate action. "While business leaders don't need to know how to execute statistical procedures," Kerry said, "you must understand fundamental statistical concepts to make sure the organization doesn't draw the wrong conclusions from the data. History is full of examples where accurate data was wrongly interpreted."
During his session, Kerry recounted examples to illustrate the many ways that analytics, properly applied, can yield answers to hard questions that can drive more effective decisionmaking and results. These examples included:
Market segmentation. Determining the organization's true addressable market while also identifying segments based on deep prospect insights.
Lead development rep productivity. Analyzing the results of LDR interactions with prospects in order to identify true drivers of LDR performance, and communicating those results in a way that inspires improvements across the entire team.
Buyer persona development. Using multivariate statistical methods instead of simplistic methods for identifying and characterizing buyer personas and buying centers, in order to generate and prioritize the right leads.
Sales forecasting. Augmenting sales rep forecasts with predictive analytics to continually improve forecast accuracy.
Product features and functions. Multivariate analysis of customer data and feedback to identify which features and functions prospects will pay for and at what price, in order to support product decisions.
Digital tactic influence modeling. Data concerning prospects' interactions with digital assets can be collected, aggregated and statistically associated with leads and opportunities, in order to understand which tactics really drive conversion.
"Having a lot of data and doing lots of analysis does not guarantee effective use of analytics," Kerry said. "By asking the right questions, making sure data is interpreted correctly, and communicating the resulting insights in a way that drives improved decisions and actions, organizations can avoid wasting resources or fooling themselves with analytics efforts that generate unreliable or non-impactful results."
Categories