Terminology Alert: Channel Partner Certification vs. Qualification
Not all channel partner testing that results in a credential should be referred to as certification; some partner testing should be classified as qualification
To ensure security and integrity, certification exams can be taken offsite and overseen by an impartial individual who monitors the test-taking (i.e. proctored exams)
While proctored exams are the optimal administration format, they are not always the most prudent approach to validating partner skills and knowledge
I am the child of an educator. During my childhood, rarely a day went by when my grammar or word usage wasn't corrected. "Stephanie, irregardless is not a word." "Stephanie, it's effect, not affect." As you might imagine, I hardly appreciated the feedback at the time and often viewed it as being downright nitpicky.
That said, age and maturity have taught me the importance of using proper grammar and the correct words. So, I feel compelled to point out that most in the IT industry are guilty of associating certification with all channel partner testing that results in a credential. However, it's important to recognize that not all partner testing is certification, and there are serious business implications to using the term certification when qualification is the right word.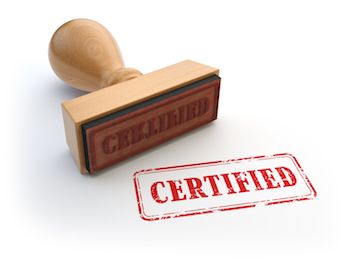 The Differences Between Qualification and Certification
One of the biggest challenges high-tech suppliers face is ensuring that partners are properly trained on their offerings. Failure to do so can lead to end-customer and partner satisfaction issues. As a result, it has become common practice for suppliers to require partner personnel to validate via testing that they have the required skills to do their job effectively as it relates to their offering. But not all testing is certification. Certifications are, by definition, proctored exams. Proctored means that someone supervises the exam to guard against cheating and to validate that the registered test-taker is the individual who actually completed the test. On the other hand, if an individual can earn a credential by passing a non-proctored online test, this is not certification – it's qualification.
A key difference between qualification and certification is customer credibility and satisfaction. Regardless of the discipline (e.g. sales, pre-sales, technical), by extending a credential to an individual, a supplier is communicating to a customer that the credentialed person has the knowledge and skills to do the job well. However, the individual with the supplier credential on his or her business card may not be the same one who took the test. Qualification may have a negative impact on your brand, and it may not be legally defensible if the customer is dissatisfied.
Another key difference rests with the test-taker. Effectively designed, executed and promoted certifications provide test-takers with several advantages that can make it worth the investment of time and effort, such as differentiation in the marketplace, solidification of confidence and positioning as a continuous learner with potential employers. The most compelling benefit of high-value certifications is that they enable the individual to make more money. Earning a certification such as those offered by Cisco can quickly lead to compensation increases of 20 percent or more. For example, according to a recent study by Global Knowledge, the average income for individuals with the Cisco Certified Internetwork Expert Routing and Switching credential is $112,858, compared to $72,546 for technicians certified only in CompTIA A+ (the most popular vendor-neutral IT certification). In its study, Global Knowledge also noted that four of the 15 top-paying IT certifications are through Cisco.
However, this doesn't mean certification is the best option for every supplier or every partner role. Consider the following factors:
Time to market. Certifications can take more time to develop and roll out than qualifications, but non-proctored, Web-based exams can scale to a worldwide audience and allow for a large pool of participants to engage in a timely fashion.
Cost. Certifications can be significantly more expensive to the supplier (and their partners), because they are typically more rigorous and likely to be outsourced to professional third-party testing centers. This makes qualifications potentially better suited for limited budgets and frequently changing exam content.
Convenience. Because of the time and effort required to take an offsite exam, partners aren't likely to have anything more than the minimum number of individuals required by the partner program applying for a certification credential.
Are There Other Options?
Today, there are several credible online proctoring services (e.g. ProctorU, Questionmark). With online proctoring, partner personnel take exams at their office or home, with a proctor observing via video. While this approach doesn't reduce costs, it's significantly more convenient for test-takers than traveling to a test center.
If the online proctoring solution is still viewed as too expensive, another option to offset the disadvantage of non-validated test-takers is to make the qualification test open-book. The concept is to place a greater emphasis on understanding the material and where to find the answers to questions, rather than on memorizing details. Additionally, open-book exams have been proven to reduce test-taker anxiety, thus discouraging violation of the rules to obtain the credential.
Further Consideration
Typically, certification and qualification both follow training. However, it's important to keep in mind that training alone doesn't mean that a technician can accurately and efficiently install a supplier's offering or a sales rep can necessarily price and configure the right offering to meet a customer's needs (much like simply going to medical school doesn't qualify a doctor to perform brain surgery). There's a level of training reinforcement and experience that must be achieved. Therefore, it's imperative for suppliers to treat training as an ongoing process. A very successful way to work with partners is accompanying and coaching them through their "firsts" – like their first few sales presentations and installations. Another best practice is to follow up on formal training with modular or "bite-size" informal training (also referred to as microlearning), such as infographics, three- to five-minute podcasts, a library of short (less than 10 minutes each) on-demand videos, and gamification activities.
Categories