The Most Coveted Social Media Cake Recipe – Revealed!
B2B companies are still struggling to effectively leverage social media to drive business impact
Although 95 percent of B2B companies have corporate social media accounts, only 50 percent are regularly active in social media
Only 10 percent of surveyed companies feel they can articulate the business value of their social execution
Although social media strategies are gaining a stronger foothold in integrated marketing campaigns, more often than not, we find that B2B companies are still struggling to effectively leverage social media to drive business impact.
According to SiriusDecisions Social Media Intelligence 2015 Study, although 95 percent of B2B organizations have set up corporate social media accounts, only 50 percent are active in social on a regular basis – and only 10 percent of those organizations feel they are able to articulate the business value of their social execution.
Having managed social media programs at Nokia, IBM and currently at SiriusDecisions, I figured that fixing this state of affairs might require taking a new approach that reduces complexities by using a well-known analogy that compares social media programs to baking.
With this in mind, here is my simplified step-by-step recipe for launching an effective social media program (figuratively, a cake), complete with insider tips from the trenches.
Ready? Great! Put on your white apron and we'll get started!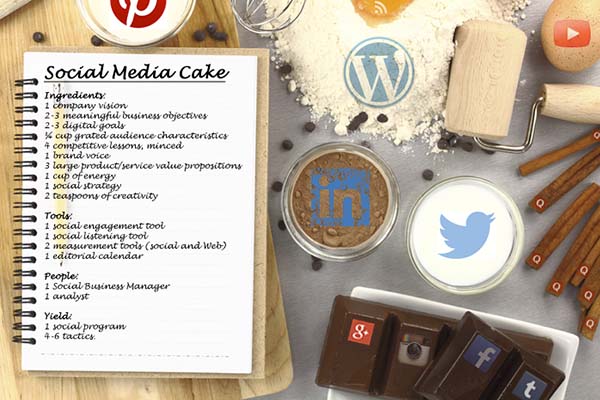 Social Media Cake
Yield:

1 social program
4-6 supporting tactics
Ingredients:
1 company vision
2-3 meaningful business objectives
2-3 digital goals
1/4 cup grated audience characteristics
4 competitive lessons, minced
1 brand voice
3 large product/service value propositions
1 cup of energy
1 social strategy
2 teaspoons of creativity
Tools:
1 social engagement tool (you might find social engagement and listening capabilities baked into a single platform)
1 social listening tool or available free listening tools (e.g. Google Alerts)
2 measurement tools (social and Web)
1 editorial calendar
People (will vary by product/service scope):
1 social business manager
1 analyst
Directions:
Step 1: Define your business objectives.
Preheat your management to get hyped about your tasty social plan so that they can support you with sufficient budget and resources. Start by carefully analyzing your company vision and extracting two to three meaningful business objectives (e.g. drive brand awareness, increase lead capture, foster sales growth, minimize customer care costs).
Tip: Educating your management about social and gaining their buy-in is key to success. Here, you may need to paint a clear picture of how your social plan is directly connected to stated business objectives. At SiriusDecisions, this means communicating linkage at every opportunity.
Step 2: Set digital goals and targets.
Let two to three clearly defined business objectives cool to room temperature and then assign each objective a measurable digital goal. For example, a measurable digital goal for brand awareness could be reach defined as total social network size and activity volume. A lead capture goal might focus on the number of registrations.
Tip: "Measurable" means goals should be time-bound and carry a quantified target. So make sure your Web and social measurement tools are properly activated. At SiriusDecisions, we ensure our top-of-the-funnel social KPIs (i.e., attract, engage and amplify) come from our social engagement tool, while the bottom-of-the-funnel KPIs (i.e., convert) come from Google Analytics.
Step 3: Research your audience and competitors.
Assemble fresh audience characteristics, starting by creating target persona keywords and applying them to a social listening tool or manual analysis of social venues. Examine the "who," "where" and "what" of your audience: Who is your audience? What type of social platforms do they use? What kinds of social behaviors do they exhibit? What are your audience demographics?
Grate key audience personas and compare to your competitive map. What worked for your competitors? What are they missing? Peel away competitive lessons.
Tip: Fully shaped audience personas and competitive lessons are important ingredients for a successful social cake. Before every campaign, we run a market intelligence report that captures our target persona behavior on social – including competitive analysis. This helps shape our social strategy and often reveals untapped behavioral opportunities and new focus topics for the entire campaign.
Step 4: Mix all ingredients well and bake your social strategy.
At this step, you have defined your business objectives, created measurable digital goals, and analyzed audience characteristics and your competition. It's time to plan a strategy for achieving your goals. Take your audience characteristics and competitive lessons, and evaluate how they match to your larger integrated marketing strategy, brand voice and product/service value propositions on each social venue where your audience congregates. Then mix well with two teaspoons of creativity to generate a few social tactics for each social venue (e.g. contests on Twitter, Slideshare Webcast recap or how-to videos, Google+ Hangout On Air, blog posts, influencer engagement tactics).
Create a delivery plan across owned, earned and paid channels. Document your tactics on an editorial calendar so that your social business manager and respective contributors are clear on the action plan. If you're part of a global team, include your local social business managers in your meetings and provide them with a global template that they can further localize to maximize impact and consistency.
Tip: Refrain from using the same content across all of your social platforms. Each platform has unique properties (e.g. textual vs. visual) and audience usage patterns. At SiriusDecisions, once we complete our market intelligence report, we use the findings in our campaign social strategy planner that overlays our strategic goals. Findings are matched to a library of gated and ungated tactics categorized by goal (e.g. attract, engage, convert).
Step 5: Serve your social media cake.
With all tactics tagged, the social business manager executes social strategy (as documented in editorial calendar) across selected social platforms, using a social engagement tool to boost workflow efficiency.
Serve the cake at social venue temperature.
Tip: Social cakes always come in two flavors: proactive (pushing content out per the editorial calendar) and reactive (responding to audience inquiries). To develop long-lasting customer relationships, the social business manager must invest ample time in reactive social activity that, over time, allows for the creation of an optimal response model covering a wide range of topics across the company (e.g., customer care, sales, marketing, PR, product feedback, crisis management). At SiriusDecisions, part of the strategy requires not only focusing on our own social venues, but also spending time on related third-party properties to engage prospects where they're already congregating.
Step 6: Measure and optimize your audience response.
Once your social cake is fully baked and served, measure your audience response in relation to your stated digital goals. Use your social reporting and Web analytics tools to tell the full buying journey story ("tree view"), and apply your social listening tool to capture the macro landscape impact ("forest view").
Tip: If you have access to sales data, you can assign a total media value to your earned, owned and paid media results and demonstrate actual social ROI. At the bare minimum, beyond awareness and engagement results, you can demonstrate lead capture conversion and, one level down, sales acceptance conversion.
As always, make sure you constantly fix gaps, rinse and repeat! If you follow this recipe for your social media efforts, please share your thoughts on results and lessons learned.
Buon appetito!
Categories