The Six Factors Driving Corporate and Regional Marketing Alignment
Tension exists between many corporate and non-corporate teams, both inter-functionally and intra-functionally

To make marketing alignment more than a mere wish, marketing leaders should agree to coordinate corporate and regional activity around six key factors

Alignment is not static – achieved once, then a permanent fixture; it develops and changes over time
SiriusDecisions has shown that organizations with strong alignment among sales, product and marketing functions can deliver 19 percent faster revenue growth and 15 percent higher profitability. Equally important is alignment between functions or groups within marketing. Unfortunately, many clients continue to describe tensions between the corporate and non-corporate teams, both inter-functionally and intra-functionally. Instinctively, all marketers know that misalignment is a bad thing and the inverse a good thing, but marketers should take time to understand the recurring pain points – both the internal (inefficient use of resources, wasted time and frustration) and external (misaligned messages, time to market and more frustration) – of misalignment. This understanding helps justify investment in time and resources and provides focus and employee motivation for alignment improvement.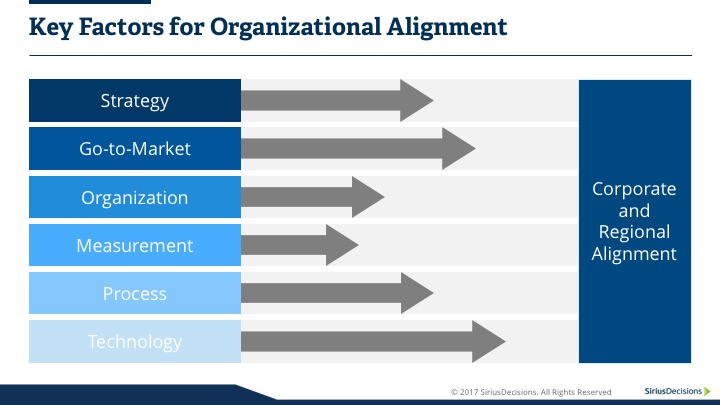 The drive for alignment must operate within the confines of company structure, which varies from one organization to the next and may include marketing groups at a corporate, regional, divisional and BU level. The CMO is unlikely to be in a position to determine the geographic or divisional models of the whole company, but he or she is responsible for aligning the marketing teams to best serve the business and work within existing organizational groupings.
The marketing staff members with corporate roles have ultimate responsibility for the creation and execution of the core marketing infrastructure and building blocks required to support the growth and reputation of the business. The make-up of the regional grouping is often time-zone based, cultural or linguistic. Again, while the CMO may not have the authority to alter the make-up of the pre-defined region, he or she must recognize the degree of differentiation within the disparate parts of a region, which is often overlooked and a cause of intra-functional misalignment.
To transform marketing alignment from a mere wish into a tangible reality, the corporate and regional marketing leaders should agree to coordinate corporate and regional activity around six key factors. Aligning on each of these factors helps create a common view of the current position, establish an agreement on how best to operate as a team, and highlight the steps that need to be taken to improve the alignment status.
Strategy. Are we in agreement on our primary growth strategy? This factor drives agreement across the organization of how corporate and regional teams will work together to align on primary goals and execution strategies to meet corporate growth objectives.
Go-to-market. Are corporate and regional teams in agreement on the go-to-market approach? This factor ensures agreement on a go-to-market strategy and the plans to achieve it.
Organization. Are staff members with the appropriate skills operating within an appropriate organizational structure? This factor describes how corporate and regional teams work together to allocate and mobilize resources.
Measurement. Are the right measurements in place to show the impact of alignment? Corporate and regional teams must align around an agreed and accepted set of metrics, and the insights to be shared and leveraged to optimize performance.
Process. Do existing processes allow the organization to interlock effectively? This factor relates to the method of defining clear processes and interlocks that must be followed to optimize performance and flexibly address cultural and legal needs in the market.
Technology. Does the technology in place allow the organization to scale? This factor drives an understanding of

both the platforms and tools an organization will utilize to scale effectively.
Sadly, alignment is not static; it is not achieved once, then deemed a permanent fixture. It develops and changes over time, in accordance with market and business demands or changes in personnel. It requires companies to constantly review the current state of alignment, the desired degree of alignment, and the actions that must be undertaken to achieve the desired state.
What is certain, however, is that the finger-pointing and the "them vs. us" mentality must cease. When regional marketers receive global direction and resources that do not align with local requirements, they should never ignore the problem, distance themselves behind local sales management or compromise marketing best practices. Regional marketing leaders should provide guidance and feedback to the corporate team on the basis of their proximity to local markets. Both parties need to be accountable for their share of responsibility and work together to create an environment of openness and trust. Corporate teams may ultimately override a region's advice or wishes. However, they must cultivate trust by aligning with regional teams on each of the six factors, supporting information sharing and promoting processes that not only invite regional input but build upon it so regions can see their voice is taken into consideration.
Categories