The State of B2B Customer Experience in Europe
Customer experience has become a higher priority in B2B organizations, driven largely by the results seen by organizations with recurring-revenue models that depend on repeat business. These companies have proven that investment in the post-sale lifecycle is a growth driver, which has prompted other businesses to seek similar benefits.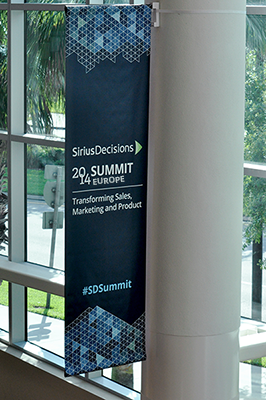 This shift is driven by the reality of a transparent market: Buyers research and compare vendors online and rely on their peers and reviews for insight into what it's like to be a customer. This means B2B organizations must stay on their toes, continually proving their value to existing customers. It's easy to see why a great customer experience can turn into competitive advantage.
A recent SiriusDecisions study surveyed more than 200 B2B organizations that have a customer experience function. Megan Heuer, vice president and group director at SiriusDecisions, discussed insights from this study earlier this week during her presentation "The State of B2B Customer Experience in Europe" at SiriusDecisions 2014 Summit Europe at the Hilton Park Lane in London.
The study found nearly half of EMEA B2B companies with a customer experience function plan to grow more than 10 percent this year. A key finding from the study showed how these high-growth companies look at customer experience differently from their slower-growth peers. Companies that plan to grow faster report getting more from their customer experience investment, and 96 percent of them intend to increase investment in customer experience this year. Slower-growth companies plan to focus and invest less in this area, and don't see the same positive results.
Just having a customer experience function doesn't guarantee results. "Our study shows a clear link between higher growth and the presence of a customer experience function with the proper focus and investment," said Megan. "Customer experience is truly the new demand creation. High-growth EMEA companies see customer experience as critical, and as a result of the benefits they've reaped, they continue to invest."
Specifically, high-growth EMEA organizations see higher levels of improvement vs. average-growth companies in key business measures linked to customer experience. They report higher loyalty and Net Promoter scores, response rates from customers, retention rates, customer lifetime value and customer profitability compared to lower-growth peers.
"Organizations that make better investments in customer experience tend to see higher growth, because customer experience investment has a positive impact on important growth levers," said Megan. "These companies also make sure the function gets the attention, resources and accountability required for success."
Unfortunately, not all companies that have a customer experience function get the results they want. According to Megan, usually it's because these organizations aren't doing all they can to optimize the role and impact of the function. "Customer experience isn't just a box tacked onto the end of the buyer's journey," she noted.
To make the most of customer experience, marketing, sales and product need to be coordinated around customer needs for the duration of the post-sale customer lifecycle, which is more complex and longer than the buyer's journey. The role of customer experience function isn't to "own" the customer lifecycle, but to align cross-functional contributions and ensure a high level of customer experience delivery.
During her presentation, Megan highlighted the following guidelines for evolving an effective customer experience function:
Develop a customer marketing function that aligns with the customer experience team. Bringing together marketing activities that focus on customer relationships is a natural first stage toward improved customer experience.
Establish a post-sale customer support team. Sales productivity improves when relationship support is prioritized and the customer experience function is a trusted partner to sales. Keep selling and non-selling roles and goals clear.
Make sure product teams deliver insights and assets.

Product should work with customer marketing and customer experience to optimize high-profile activities (e.g. user groups, advisory boards) and make sure all functions that can use their insights receive them.
Categories