The People's Shark: Daymond John Delivers an Insightful Closing Keynote at Summit 2017
As the closing keynote speaker at Summit 2017, Daymond John took the audience down his path to success
He also introduced his five SHARK points to help guide future entrepreneurs on their way
One SiriusDecisions theme was ever present during his talk: audience-centricity
In his book The Power of Broke, Summit 2017 closing keynote speaker Daymond John writes about successful entrepreneurs who started at the bottom and were forced to be creative and leverage their resources more efficiently than their competitors:
"Let's face it, when you're up against all odds, when you've exhausted every opportunity, when you're down to your last dime…that's when you've got no choice but to succeed. You're out of options, man."
As someone who built a lifestyle brand from the ground up into a $6 billion business, Daymond is well placed to offer this advice. Beginning with sewing hats in his mother's basement and selling them in front of the Jamaica Colosseum Mall in New York City, Daymond made FUBU (for us, by us) into a hip-hop culture icon. He described to the Summit audience in Las Vegas how a Run-DMC show on Good Friday 1989 was a revelation for him: "It was that moment that my world turned from black-and-white into color."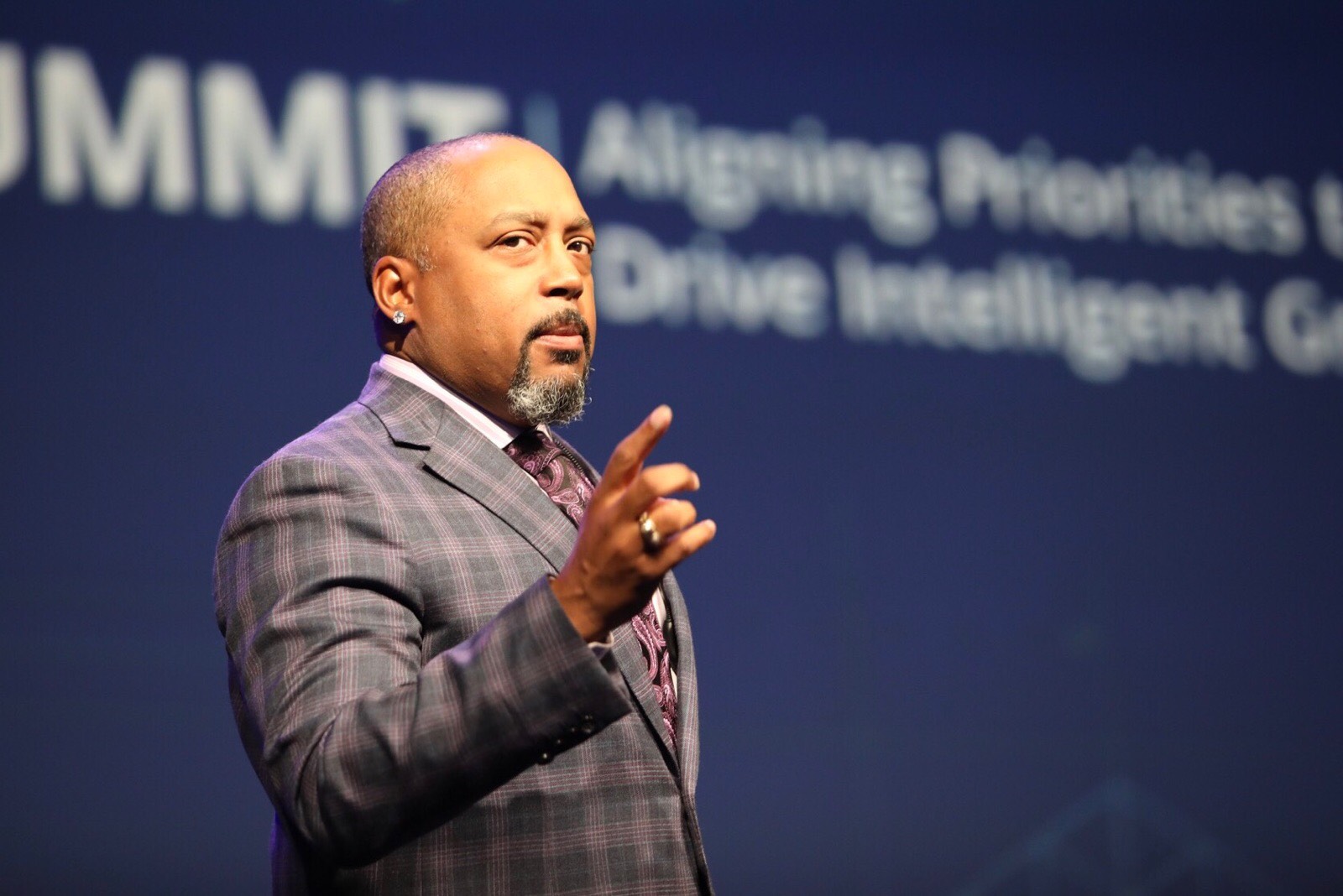 From there, Daymond knew the culture and audience he wanted to belong and appeal to. But success was not immediate or without its challenges. From almost missing out on an endorsement deal with LL Cool J to being turned down by 27 banks before he could find an investor, he had to learn and survive to make FUBU into the widely recognized brand it is today.
As he walked the Summit audience of sales, marketing and product leaders through his story, Daymond laid out his five "SHARK points":
Set a goal. You become what you think about all the time. If we don't set goals for ourselves, we let other people set goals for us. To help illustrate this idea, Daymond shared a quote from his mother, who helped him build his business in its early stages: "Son, responsibility is something that must be taken, not given."
Homework. Do your research, know your audience and put in the work. Daymond mentioned another quote from his mother: "OPM isn't just other people's money; it's other people's mindsets, marketing and their mistakes. You need to do your homework and learn from these things." He described an amazing instance where Gap got LL Cool J to do an ad to appeal to the hip-hop community, after a tone-deaf pitch made to the rapper to try and bring his knowledge of the target audience. While LL wound up doing the commercial, his freestyle routine including a reference to "For us by us, down low." Gap didn't do its homework, and wound up unknowingly running FUBU ads.
Amore. Daymond described the moment he knew he was financially successful: "Now I was rich – I could have all the fake friends I wanted!" But he warned that success is not about money. You must love and believe in what you're doing, and you need to focus on doing the right thing for your business. That goes into caring about family, and who you are surrounding yourself with. Keeping the talk connected to the human element of business, Daymond reminded the audience that "we do not invest in companies, we invest in people.
Remember. "Life is a series of pitches," said Daymond. "You are the brand. Remember who are and where you've come from. If you don't remember the two to five words that you stand for, you let other people determine that. After you know who you are and what you stand for, then it's time to master the pitch."
Keep swimming. Daymond wrapped up his inspiring talk by describing his recent experience of surviving stage two thyroid cancer: "A man with his health is a man with 1,000 dreams. A man without his health is a man with only one dream." Here he emphasized the will to survive and keep going, which again ties back to the "power of broke" and the idea that capital isn't always what determines success.
Nowadays, Daymond shares his life lessons and insights with TV audiences as part of the cast of Shark Tank, a business reality show where he and other successful entrepreneurs vet new business ideas and decide whether to make an investment. Known as "The People's Shark," Daymond is known for bringing a down-to-earth, human touch that reflects his experience growing from humble beginnings.
Connecting the Summit audience to his hit TV show, Daymond mentioned why he can relate to many of the challenges B2B leaders face: "After I buy all that crap on Shark Tank, I've got to find a way to sell and market that stuff!"
Categories