Three Best Practices From The Forrester Digital Experience Review™: US And Canada Mobile Investing Apps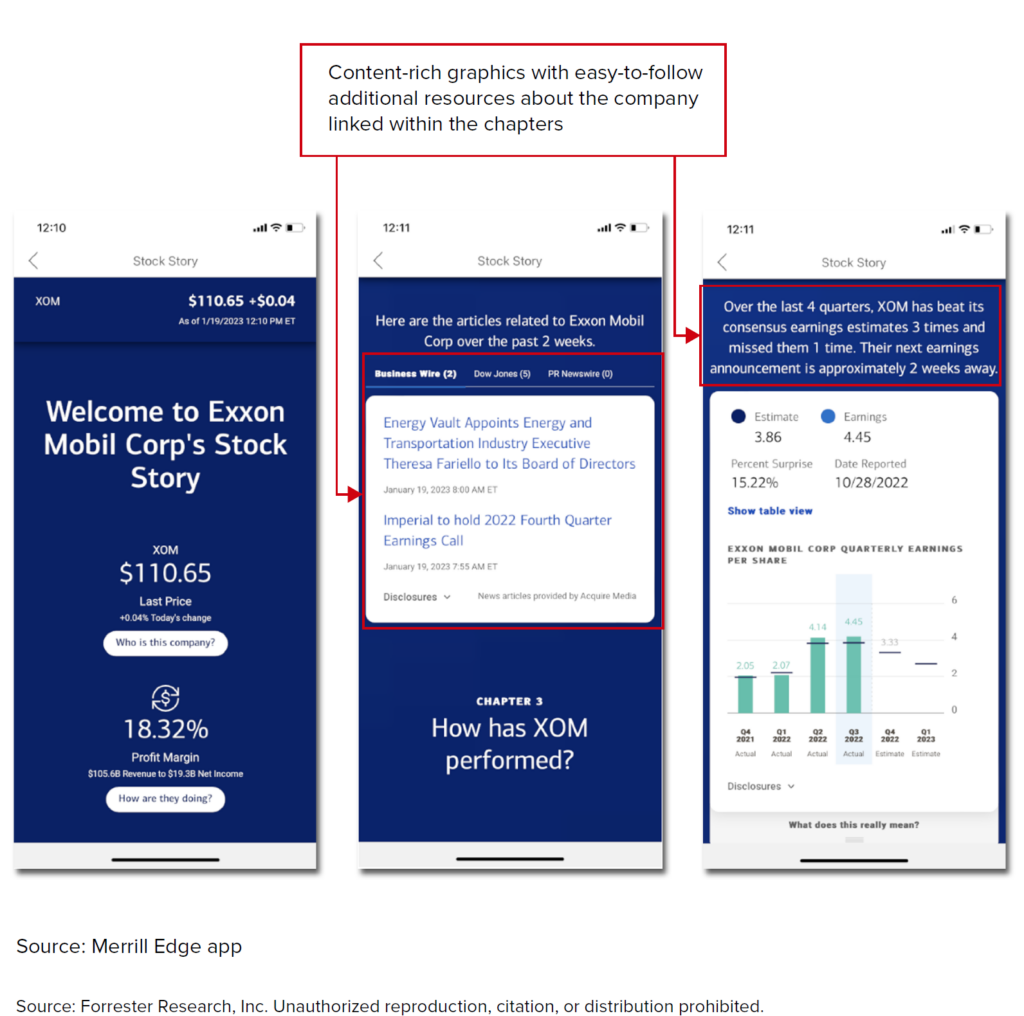 More than half of US and Canadian online adults use a smartphone to access and conduct transactions in their investing accounts, making mobile investing apps a critical part of the investing journey. To identify mobile investing app best practices, we reviewed the functionality and user experience of 12 North American mobile investing apps that target self-directed investors. Find all of our findings in The Forrester Digital Experience Review™: US And Canada Investing Mobile Apps, 2022.
Here are three takeaways:
Fidelity leads in digital functionality.

The Fidelity Investments mobile app earned top marks in the news research/analysis and assisted service capabilities. It provides users with robust securities research tools, including interactive charting abilities, and extensive market commentary via videos, podcasts, and articles.

TD Canada's app offers all levels of investors a robust library of learning topics.

Its Learn to Invest portal includes modules on specific investing themes like taxes or year-end strategies, with new videos uploaded on a regular basis. In addition to recorded videos, TD Canada provides daily master classes and live webinars that allow users to ask investing education professionals questions in real time.

Some apps excel at helping customers identify investment opportunities.

When we asked participants in our usability study to find a bond with a certain yield, only 25% were able to find it. Leading apps support customers in screening for securities that meet their unique criteria and embed educational content in research screens. Vanguard and E-TRADE include a screener in the app itself, with E-TRADE including access to a short definition next to each criteria type. Merrill's Stock Story feature makes it easy for an investor to understand key elements of a stock or fund to consider before deciding to invest (see image below).
In addition to the report, we have also created The Forrester Mobile Investing App Functionality Assessment Tool. Digital business strategy leaders and their teams can use this Excel-based tool to measure progress and identify areas for improvement in their customers' digital journeys. By assessing elements of the digital app yourself, you can gauge the quality of your offerings versus our criteria. A heat map in the tool highlights areas of strength and weakness.
Beyond the self-assessment, Forrester Decisions clients can also schedule guidance sessions to discuss their self-assessment and steps they can take toward enhancing the digital functionality of their app. If you want to discuss any of these research findings or the methodology behind them, please schedule a guidance session with me.
Related Forrester Content