'Tis The Season For Consumers To Still Not Buy On Social Media
This blog post is part of Forrester's Holiday 2018 retail series.
Despite news of brands such as Nike, Adidas, Allbirds, and SeatGeek successfully selling on social networks, social media is still not a place that consumers buy products and services. Our Forrester Social Technographics® data uncovers that consumers use social media least in the buy stage of the customer life-cycle compared to the discover, explore, use, ask, and engage stages (see figure). Even when comparing age groups, this statement holds true, though younger consumers are more open to completing a purchase on social media than their older counterparts: 74% of 18–25-year-olds say they've "never" or "less than weekly" completed a purchase on a social network without leaving the network, versus 86% of 35–44-year-olds and 93% of 45–54-year-olds.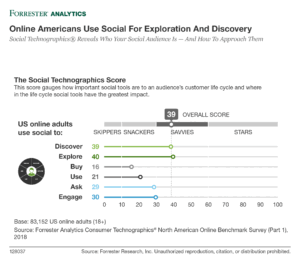 Yet, with holiday shopping around the corner, social networks are trying to entice marketers to spend more on advertising with retail-specific ads such as Snapchat's new shoppable Collection Ads or overlays on Facebook's dynamic ads to display product details or publish more organic posts utilizing shoppable features such as product stickers in Instagram stories. But these formats are nascent and, for the ads specifically, make up a small percentage of total ad revenue per our back-of-the-envelope calculations.
What it means for marketers: It's fine to experiment with retail-specific social media posts, particularly if your target audience is younger consumers. But don't expect to see a sudden surge in holiday sales on Instagram, for example, because consumers aren't executing purchases on social media. Instead, focus your social marketing efforts on the two strongest customer life-cycle stages: discover and explore. Create social marketing content that encourages consumers to learn about your brand, product, or service (the discover stage) and easily allows consumers to research what they've just discovered (the explore stage).
Categories