Use Direct Mail To Get The Attention Of Your Digital-First B2B Buyers
When was the last time you answered a phone call from a phone number you didn't recognize or opened an email from an unfamiliar sender? Like, never? Same here.
The sad truth about most modern marketing tactics is that they're too cheap and too easy. When anyone can do it, everyone will — which also explains the behaviors listed above. Ignoring all the ads and emails and calls that inundate the average B2B buyer is a coping mechanism, even if it means missing that one perfectly crafted subject line you so carefully created.
That's why direct mail should be part of your omnichannel engagement strategy — because it's analog and "new" again. Done right — precisely targeted, appropriately personalized, and immediately followed up upon — direct mail can help you cut through the digital clutter, gain an invaluable moment of attention, and move more prospects closer to conversion.
It's not a silver bullet, so you shouldn't substitute direct mail for any other single tactic in your bag or use it indiscriminately, or you'll just ruin the party for everyone else and we'll end up with response rates for direct mail in the same low single digits we currently see for email.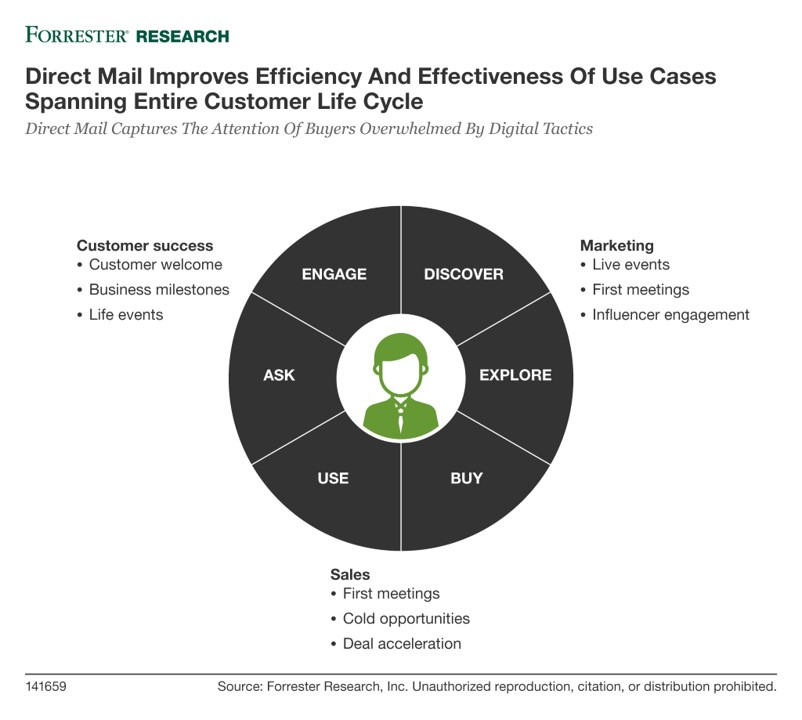 Think of direct mail as a complement to everything else you do, another tool that can help you throughout the customer journey — to secure more meetings, drive increased event attendance, revive dormant opportunities, and shorten the sales cycle.
Forrester clients can read more on this topic in my new report, "Direct Mail Captures The Attention Of Buyers Overwhelmed By Digital Tactics," and learn how today's direct mail solutions have evolved into SaaS platforms that enable marketing, sales, and customer success teams to create real-time, personalized engagement throughout the customer life cycle.
Categories