We Need Leads – Let's Host an Event
All marketing professionals understand the constant pressure to deliver sales-ready leads
The most frequently reported metric for event marketers was "number of sales-ready leads by territory"
Most trade shows and live events should be part of a broader campaign plan
All marketing professionals understand the constant pressure to deliver sales-ready leads – feeding the hands that put bread on our table is a pretty powerful motivator. This point was emphasized for me during a webinar I recently co-presented, titled "Connecting the Dots from Event to Sale."
The discussion focused the benefits of an informed and modern event strategy, and the practical steps required to ensure effective post-event lead followup.
SiriusDecisions benchmark data shows that B2B organizations have increased their percentage of demand creation budget spend on trade shows and live events from 35 percent in 2012 to 37 percent in 2015. Given the traditional pressure to generate sales-ready leads, it was no surprise that the results from a straw poll taken during the webinar showed that the most frequently reported metric for event marketers was "number of sales-ready leads by territory." This metric scored dramatically higher than other options, including "number of potential new business contacts."
As marketers, we need to agree upon and measure a wide range of non-lead generation event objectives (e.g. reputation, sales enablement or customer loyalty goals). It is unrealistic and simplistic to equate the total success or failure of an event with the number of leads reaching the sales-ready threshold at that event. While a sales function understandably looks to receive quality leads, we in marketing know that a lot of other effective work needs to be done in order to deliver those leads.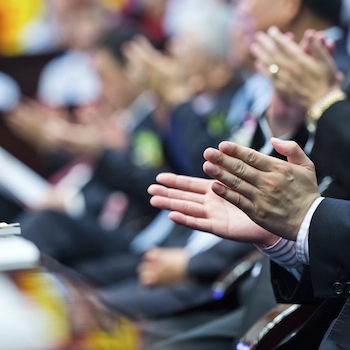 But to the marketers who focus purely on sales-ready leads, here are some thoughts on how best to ensure that the events we're spending our budget on – whether a small, locally hosted live event or a large conference – can deliver or stimulate sales-ready leads:
Event selection. Most trade shows and live events should be part of a broader campaign plan. Too often we see ineffective, instinctual decisionmaking for attendance at events. Use agreed upon and well-considered selection criteria to determine which events to support. Ensure these events can drive movement toward supporting your campaign goals. This will increase the likelihood of meaningful onsite interactions.
Event service-level agreements (SLAs). The SiriusDecisions Demand Waterfall® allows organizations to track leads that move directly from initial qualification and bypass any teleprospecting or human-qualification process. We call this the route-around, and it is especially prevalent in leads generated via physical events. A conversation may have taken place and interest directly recorded. Ensure that route-around or event-specific SLAs are agreed-upon and enforced. Detail the information that must be present when the lead is delivered, and stipulate the actions that the receiving sales function will undertake – including followup times.
Consistent lead level. It is vital that a route-around process is not seen as a back door for low-quality leads to enter the Waterfall. Maintain lead quality thresholds. Business cards thrown into a fishbowl do not automatically equate to sales-ready leads! Consider amending data capture forms or using technology apps to improve the collection of contextual data (e.g. a person's permission to receive email). To improve the conversion of sales-ready leads into opportunities, train staff on capturing conversation information, require that they gather a person's email opt-in, and deliver greater contextual background to the sales team.
Post-event nurture. Will all leads gathered at the event be sales ready? No. These should not be passed to sales, but rather marked and nurtured. During the pre-event phase, determine appropriate post-event nurture streams and channels that can be used to extend the value of the physical event. Set rules for interest segmentation and use the data gathered at the event to allocate appropriate contacts to each chosen stream.
Physical, in-person events are here to stay, so let's make them more effective. While marketers need to look to a wider set of event metrics than simply the number of leads, there are steps we can take to improve that metric as well.
Join us at our upcoming Summit in Nashville – register today!
Categories