What's New at Summit 2015? (Hint: A Lot)
Each year at Summit, we offer a range of intriguing keynote speakers and educational track sessions
Many attendees find the networking opportunities at Summit invaluable
Don't forget about our annual social events at Summit, like the Green Tie Gala
I'm excited about all the new additions we've made for this year's Summit. We've already shared that our guest keynote speaker is going to be magical (#6), but there are a ton of amazing upgrades that will make this Summit the best ever. Here's a quick rundown of my top 10: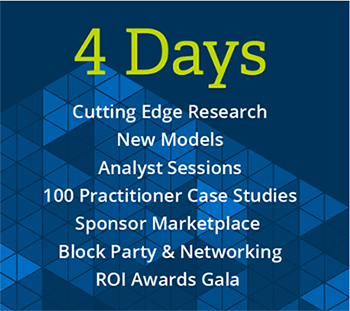 1. On-demand registration. It's a simple thing, I know, but we're (finally) bringing our registration into the 21st century with on-demand registration and badge printing to get your Summit experience started off on the right foot. Get a head start by joining us on Monday, May 11, from 2 to 6 p.m. to pick up your badge before sessions start first thing Tuesday morning.
2. Expanded track sessions. We're expanding our track sessions to 35 sessions across nine tracks to provide a focused Summit experience based on your role and initiatives. Check the Summit site for our analyst picks for sessions by role!
3. More opportunities to take in our most popular track sessions. We listened to your requests to repeat select track sessions to provide more opportunities to participate. This year we'll be repeating 14 sessions across eight tracks, something we've never done before at Summit.
4. Connections that last a lifetime. Meet leaders and teams from across the United States and around the world. Exchange ideas, share "war stories" and make connections that will last long after Summit.
5. The Green Tie Gala is back…with some changes. Last year's formal awards program is being reimagined as a casual, relaxed and fun evening with great food and awesome live entertainment. And unlike last year's surprise act (Eddie Money, Gary Wright, Steve Augeri, etc.), we're going to announce our gala entertainers, so stay tuned. Wednesday evening at Summit is going to be a blast!
6. A Magical keynote. One of my childhood heroes, Earvin "Magic" Johnson, will share his experiences from more than 40 years of outperforming on the court, in business and in life.
7. Thursday night on Broadway in Nashville…we're going to rock it. We're extremely pumped about Thursday's Titanium Block Party under the lights in downtown Nashville on the world-famous Broadway Avenue. Pack your boots (or pick some up in Nashville) for what is going to be an epic evening with a unique flavor that only Music City can provide. (Hat tip to our Titanium sponsors for hosting this one.)
8. New research. New models. New products! In addition to the latest ideas and research you've come to expect from Summit, we'll be introducing ten new models and two VERY exciting new products that will transform how you operationalize SiriusDecisions concepts and best practices. Stay tuned to #SDSummit and @SiriusDecisions for the latest news.
9. Already the best in B2B, an expanded Summit Marketplace featuring a Product Showcase Theatre. #SDSummit delegates represent an estimated $20 billion in purchasing power. The Marketplace will provide a convenient way to connect with current partners and to discover what's new in B2B tech and services. Our Titanium sponsors will take our new Product Showcase Theatre for a spin, and delegates will have the opportunity to attend an unparalleled 100+ practitioner case studies where they will hear about how peers are working with solution providers to impact performance.
10. It's our birthday! Summit is turning 10, and we can't think of a better way to celebrate than to spend four days in Nashville with more than 2,000 of our closest friends. Stay tuned for even more details on how we plan to make our 10th year the best yet for all our delegates.
See you soon!
Categories