What's the Return on Your Time Investment?
As Chief Engineer Montgomery Scott (aka "Scotty") famously said in the original Star Trek television series, "I can't change the laws of physics, Captain."
Well, you can't change the laws of time, either: There are 168 hours in a week, and most of us want to spend part of that time relaxing with our families, pursuing hobbies and sleeping. During the rest of the week, sales reps spend an average of 50 hours on work activities.
Sales operations and sales enablement professionals, who are tasked with improving the efficiency and effectiveness of the sales organization, must understand how reps are spending those 50 hours and maximize the productivity of their working time. SiriusDecisions has developed the Sales Activity Matrix, which places each sales activity into one of four quadrants:
Core selling activities/direct engagement. These activities involve direct engagement with buyers through email, phone or Web, or face-to-face.
Core selling activities/internal. These activities help initiate or advance an opportunity but do not directly engage the buyer. They include pre-call planning, proposal writing, responding to a request for proposal, finding/creating sales content, opportunity strategy and account planning.
Non-core activities/direct engagement. These activities involve direct engagement with buyers, but without any selling. Examples include visits with friendly – but unqualified – buyers, customer service calls, and payment tracking.
Non-core activities/internal. These activities include order processing, pricing approvals, filling out expense reports, calculating commissions, dealing with technology issues and downtime, traveling and responding to (non-sales/marketing) corporate emails.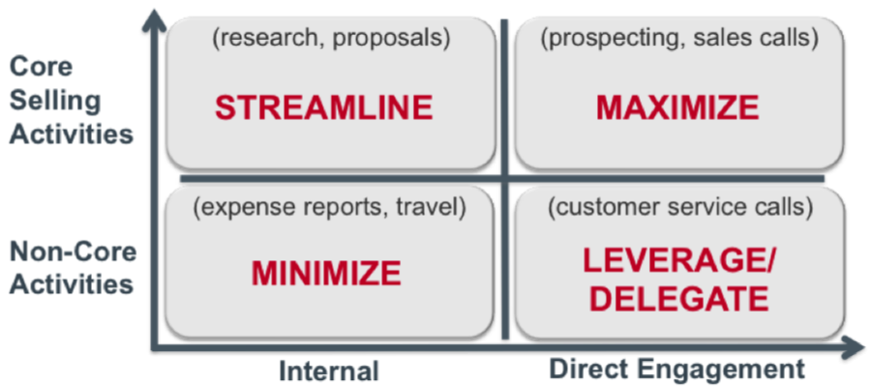 Studying sales reps' activities provides some insights into their productivity and inefficiencies. However, a more precise analysis is required to obtain deeper insights. For example, understanding that reps spend 20 hours per week on prospecting and sales calls does not tell us whether they are calling high-potential prospects, delivering a compelling message or confidently expressing the company's value proposition.
Together with sales enablement and sales leaders, sales operations must prioritize improvement efforts based on the yield from activities in each activity quadrant and concentrate on the skills, knowledge, process and tools that can improve effectiveness and increase the return on time investment for sales reps.
Categories