Where Does the Time Go for Your Reps?
"Most of us spend too much time on what is urgent and not enough time on what is important," wrote Steven Covey in his business/self-help book The Seven Habits of Highly Effective People.
Many of you are familiar with the four-quadrant approach Covey espoused to help people understand where they spend their time. He recommended dividing activities four quadrants: important/urgent (e.g. tending to a crying baby), important/non-urgent (e.g. exercise), non-important/urgent (e.g. answering a phone call to a wrong number), and non-important/non-urgent (e.g. watching a rerun of Jersey Shore). Covey stressed that better time management requires shifting time from unimportant activities to important activities.
At the SiriusDecisions Summit, Mark Levinson – service director, Sales Operation Strategies – and I introduced a new model called the Relative Productivity Framework to help marketing and sales leaders better understand where their reps are spending their time.
There is no question that improving sales productivity is a top-of-mind issue. During our instant poll at Summit, 42 percent of attendees said they were "very confident" their reps were not fully productive. The problem? Traditional time and motion studies used to record where reps spend their time don't provide enough insight on true rep productivity.
The Relative Productivity Framework is based on SiriusDecisions' Sales Activity Matrix. We advocate placing any sales activity captured in a time and motion study into one of four quadrants, similar to Covey's approach (see diagram):
Core selling activities/direct engagement. These activities help reps either get a new opportunity or advance an existing opportunity through their sales pipeline by directly engaging buyers through email, phone or Web, or face-to-face. This is the quadrant that sales and marketing leaders want reps to maximize their time in.
Core selling activities/internal. Like the activities in the top-right quadrant, these activities either help a rep get into a deal or advance an existing one, but they are done behind the scenes, without engaging the buyer. They include research, pre-call planning, proposal writing, responding to a request for proposals, finding/creating sales content, opportunity strategy, account planning, etc. Focus on streamlining these activities.
Non-core activities/direct engagement. These are times when reps are directly engaged with buyers, but no selling is going on. As a manager, I'd see reps pad their sales activity by visiting with friendly "buyers" who had no intention of buying. Another example is the customer service calls that reps manage. In some cases, reps can use service calls to position additional offerings or ask for a referral to another part of the buyer's organization. In other cases, the client management team can better handle the service calls. Knowing which activities to leverage and delegate is key
Non-core activities/internal. These are the productivity-suckers that can severely hinder sales productivity. Examples include order processing, pricing approvals, expense reports, calculating commissions, technology issues and downtime, travel time and non-sales/marketing corporate email. Time spent on these activities must be minimized.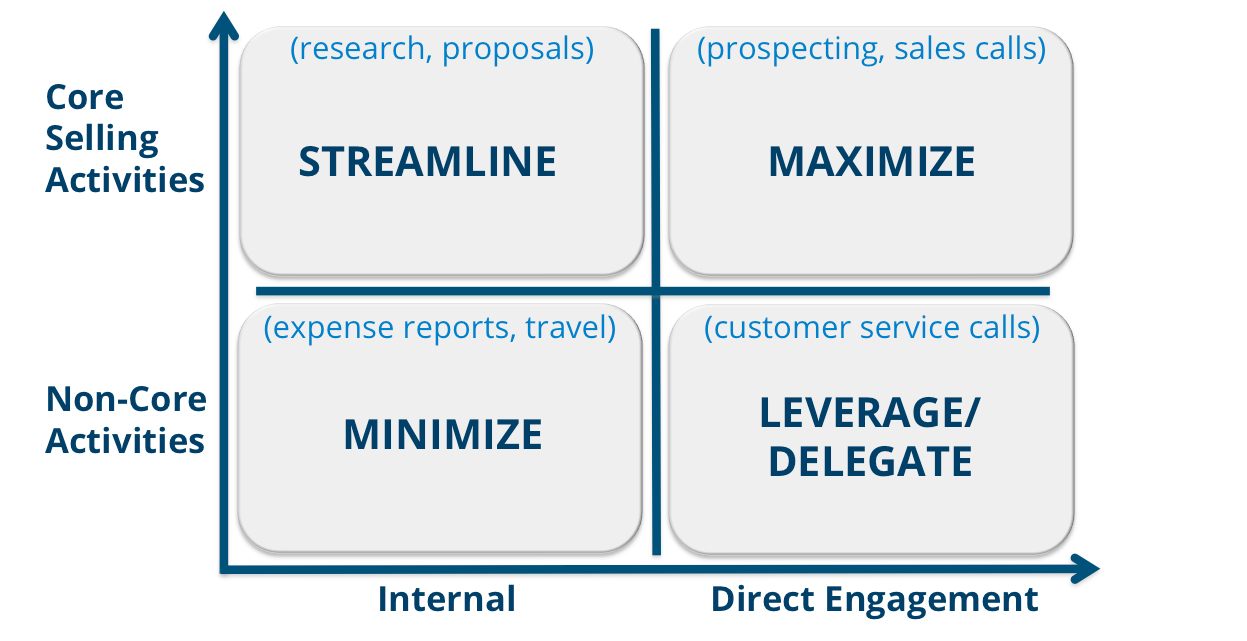 The key to improving sales productivity is to move time spent on non-core activities to core selling activities, helping reps spend more time on higher-yield activities and improve their yield for every activity. Our new Relative Productivity Framework takes the data captured with the Activity Matrix and calculates the true productivity of your reps.
Categories