Where Should Product Marketing Report?
There are often internal power grabs over the product marketing function reporting structure
Ideally, the product marketing function should report into a central marketing function under the direction of the CMO
Reporting into marketing allows the product marketing function to thrive and maximize their impact on the business
"Location, location, location" is not just a mantra for real estate agents – it also applies to B2B org charts. One of the most common questions we get on product marketing functional design is "Where should the product marketing function report?" This quandary is usually expressed as a territorial battle between marketing and product management leaders.
Let's start with the answer to this question: The product marketing function should report into marketing, under the direction of the CMO. That is the ideal reporting structure given product marketing's core disciplines, required skill sets and cross-functional interlock. There are often understandable objections to this response, especially in engineering- and R&D-driven B2B organizations. However, this reporting structure is a best practice for many reasons that go beyond the fact that the word "marketing" is in the functional title: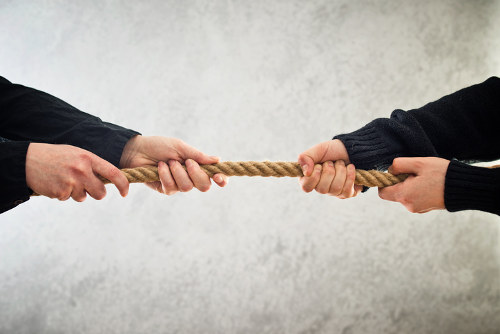 Maximize impact on the business. The product marketing function is responsible for five core disciplines: go-to-market strategy, personas and buyer insights, messaging and content origination, bringing offerings to market, and sales knowledge transfer. Many of these disciplines require a very different set of skills than those required for product management. Plus, product managers focus more on interlock with the product development organization than product marketers, who are more focused on other functions under the CMO, such as demand creation or marketing communications. Over a decade's worth of research across hundreds of B2B organizations tells us that the product marketing function can thrive and provide a more significant impact on the business when it is under the direction of marketing leadership. Just as product management risks being misunderstood and not being utilized properly when it reports to the technology organization (see Jeff Lash's blog post "Where Should Product Management Report?"), product marketing can suffer when it reports into product management.
Move towards audience centricity. As B2B companies make the shift away from being product-centric to becoming audience-centric, product marketers are key shepherds of these initiatives. At their core, high-performing product marketers are critical thinkers with strategic marketing skills; these skills are required to make this CMO-driven transformation happen. They are responsible for buyer expertise and delivering the buyer insights necessary to guide the organization to market based on the buyer's preferred journey instead of internal constructs such as product hierarchies and business units. It's also one of the reasons we recommend changing the name of the function from product marketing to portfolio marketing to better reflect this audience-centric go-to-market focus and approach.
Ideal position in workflow process. To effectively inform content and campaign strategies, product marketing should be located upstream in the marketing ecosystem. This position allows the function to establish the right foundation (e.g. go-to-market strategy, buyer personas, messaging) for successful downstream marketing and sales programs. Yes, product marketers will still work closely product management on go-to-market strategy, execution and growth. Product marketing doesn't have to report into product management to make this happen in the same way it doesn't have to report into sales to enable the sales force.
Remember that where product marketing reports is not about one function winning over the other. It's about doing the right thing for the organization and ensuring go-to-market alignment to business goals and objectives. To gain a better understanding of how product marketing can effectively interlock with other functions (regardless of reporting structure), clients of SiriusDecisions' Portfolio Marketing service can download the full report on Defining a Responsibility Assignment (RACI) Matrix for the PMM Model. Non-clients can access summary details by downloading the SiriusDecisions Product Marketing and Management Model Overview.
Categories