Why Don't Sales Leaders Care More About Seller Insights?
Advanced analytics are changing sports as teams collect data that provides insights about the opposing team, its players, and in-game opportunities. These insights only work, however, if the players take advantage of them during the game — in the moment. The three-point shot in the NBA is a great example. Obviously, scoring three points is better than two — which means shooting 40% from two-point range is the same as shooting 27% from three-point range. As long as a player has a three-point percentage higher than 27%, it is usually better for them to take a three-point shot than a two-pointer. The league average for successful three-pointers this year is 35% and has been above 27% for the last 30-plus years. Yet the number of three-point shot attempts only spiked in the last five years. In hindsight, the opportunity was obvious, but teams and players only recently took advantage of it. Sales organizations need to remember this when deploying advanced sales insights. Account, buyer/contact, and deal insights are useful only if the seller eventually takes action.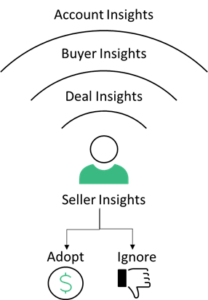 Types of insights:
Account insights. These insights provide details about the overall company. This is a useful but weak signal for a seller. For example, if a prospect account has shown an increased level of buying activity, it's an indicator that the seller should engage with the individual buyers and contacts in the account, but it gives very little insight into appropriate messaging or specific actions to take.
Buyer/contact insights. Understanding the buying group is critical to informing optimal sales execution. The more sellers know about the buying group, the better they can customize their approach to meet buyer needs and win business. For example, if four contacts at the same account have recently inquired about the same product online, the seller can focus the discussion on that product in their upcoming meeting with these buyers.
Deal insights. These provide added insights about the deal while also aggregating account and buying group information in one place to provide opportunity-specific insights. For example, with analysis of the interactions that have already occurred with an opportunity, the next best action for the seller is to engage the decision-maker about preparing and reviewing a proposal.
Seller insights. The three previously discussed insights inform seller action. Seller insights indicate whether the seller has understood these insights (e.g., account, contact, deal) and used them to improve outcomes (for example, if the seller did not engage the decision-maker about a proposal in time and subsequently lost the deal). In this situation, it wasn't the insights that were at fault — it was the ability of the seller to act upon those insights.
While all insights are valuable, none of them are useful if sellers are not absorbing them and using them to improve results. Without seller insights, there is no way to determine whether any of the other insights added value. Based on a snap poll asking which type of insights would have the biggest impact, seller insights only received 9% of the votes. This is likely because most seller insights are tied to skill-building, which is not directly aligned with outcomes. This is finally changing. With seller/buyer interaction capture emerging and providing a complete picture of an opportunity, companies can evaluate sales training and seller performance against outcomes to ensure that sellers make the most of every insight. Account, contact, and deal insights are developing rapidly, and providing more and more value, but they will not become core to the sales process until companies can make certain that sellers are leveraging them.