X Marks the Spot: Competency Maps Lead to Marketing Skills Treasure
Discover benefits that.competency mapping can bring to a B2B marketing organization
B2B marketing teams are grappling with a significant level of change that is fueling a growing skills gap
Creating a list of core competencies, and aligning them to marketing functions, allows leaders to build focused competency maps
It's a common cinema trope: the mysterious old map that points to great treasure. Naturally, the story protagonists seek it out (having many adventures along the way) until they reach where "X marks the spot." It is crucial for the characters to follow the map; otherwise they will have no shot at the treasure. Besides, who wants to waste the time and energy digging random holes (that may or may not help with the end goal) when there is a defined path to follow for success?
This is an apt analogy for the benefits that competency mapping can bring to a B2B marketing organization.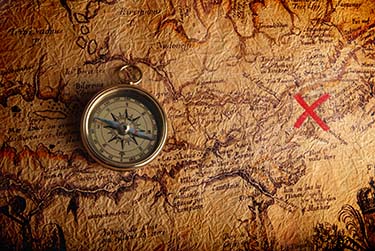 There is a clear problem. B2B marketing is grappling with a significant level of change that is fueling a growing skills gap. In recent years, marketing organizations have seen the rise of new functions (e.g. customer experience, demand centers), new roles (e.g. data analysts, content operations) and new competencies (e.g. technology expertise, analytics) that have created pervasive marketing skills gaps. How to address this problem is less clear. Should organizations hire for desired skills, or train the staff they currently have? If they opt for training, then what are the skills that they should train people?
At SiriusDecisions, we don't see this as an either/or solution. Organizations will always need to both hire new employees and train the ones they have. But the questions of "what should our marketers know?" and "what should we train them on?" remain valid.
This is where competency mapping comes into play.
In order to effectively train employees, marketing leadership must first "chart the path" and identify the core competencies (defined as the knowledge, skills, process and/or tools) necessary for success. It's important to consider competencies that are specific to each marketing function (e.g. product marketing, field marketing or marketing operations) as well as the organization as a whole. Marketing leaders need to decide up front what competencies are critical for their organization ­– and this decision should be driven by their specific business needs, not based on the trendy marketing skills of the moment.
Creating a list of core competencies, and aligning them to marketing functions, allows leaders to build focused competency maps. By doing this, they gain:
Well-defined functions. Competency mapping results in a forward-looking and consensus view of what "good looks like" for each marketing function.
Ecosystem clarity. The ability to spot gaps or overlaps in functional responsibilities across the entire marketing ecosystem – and the opportunity to define or redefine team charters.
Effective role creation. The opportunity to create better defined job roles, determine the optimal mix of roles within functions, and build internal career paths for staff looking to transition and grow.
Assessment benchmarks. Competency maps establish the relevant skill levels that individuals and teams will be assessed against to determine current state and identify gaps.
Solid learning foundation. Understanding core competencies lets marketing develop learning curriculums that are function-specific and immediately applicable to the job roles of participating marketers.
When you create competency maps for your marketing organization, you lay the groundwork for a shared understanding of the key competencies required for marketing success, establish more effective functions and roles, and define a path to enable marketers to develop or augment key skills. This leads to less job frustration, greater employee skill and engagement, and higher talent retention. In other words, valuable treasure for your entire marketing organization.
To learn more about this topic and about other ways to outperform in your business, click here.
Categories