You Have 24 Hours to Complete the Challenge.
"My Facebook feed is equal parts babies and adults dumping ice water on themselves," I lamented one night in August to no one in particular.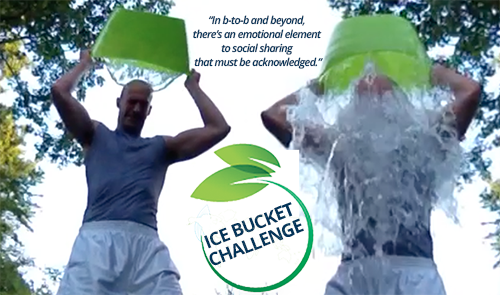 The Ice Bucket Challenge was started by Peter Frates, a Boston College alumnus who was diagnosed with amyotrophic lateral sclerosis (ALS, also known as Lou Gehrig's disease) in 2012. Frates, who can no longer speak, used Facebook to post a video of himself. With the indelible Vanilla Ice hit "Ice Ice Baby" playing in the background, he made a request of several friends, family members, and famous personalities in the Boston sports and media community.
The gist of the Ice Bucket Challenge is this: if you are "challenged" (nominated by a Facebook friend to participate), you can either make a donation to support ALS research or dump a bucket of ice or ice water on your head. You have 24 hours to complete the challenge.
A viral social media phenomenon ensued. However, instead of making donations to support ALS to avoid an ice water bath, many people opted to do both. Fully clothed and sopping wet, they proudly nominated additional members of their network via social sharing and tagging, and in most cases, reported their ALS donation amounts.
According to their Web site, the ALS Association collected $4 million from July 29 to August 12 this year, compared to $1.12 million during the same time period last year. By this measure, the Ice Bucket Challenge was an improbable success.
Or was it?
In his book Contagious: Why Things Catch On, Jonah Berger describes six elements that contribute to virality. Among them is the idea of content as "social currency."
Berger describes social currency as content that makes the person who shares it seem smart or funny and reflects positively on him or her. Exclusivity is also a part of social currency – think about the popularity of "by invitation only" memberships, Web sites, and offers. People love to brag on Facebook about the free drinks in first class. Nobody ever brags about the middle seat in coach (except if it was obtained as a result of standby persistence – also a form of exclusivity).
The Ice Bucket Challenge is the perfect blend of social currency and exclusivity. Not only does dumping a bucket of ice water on your head make you seem fun-loving, but a donation to support ALS makes you look smart and generous. Additionally, because the Ice Bucket Challenge is by nomination only, there is an exclusivity associated with being selected. That exclusivity is acknowledged and transferred every time a soaking-wet participant nominates additional people in his or her network.
Not all B2B social media content can be leveraged for social currency. But consider originating and activating content for social media that is designed to be shared because it reflects positively on the sharer. It should be smart or funny and, if possible, create a sense of exclusive access.
In B2B and beyond, there's an emotional element to social sharing that must be acknowledged. The more likely the content is to be shared, the more reputation and awareness will be built as a strong foundation for future demand creation.
Categories