Forrester: Asia Pacific tech market growth will slow to 4% in 2020 due to concerns about growth in China, India, and Japan
While tech spending in Asia Pacific has grown significantly in recent years, the tailwinds will wane somewhat in 2019 and conditions could become stormy in 2020, with growth of the Asia Pacific tech market forecast to slow to 4%.
China will spend US$256 billion on tech goods and services in 2019, cementing its position as the region's largest tech market, while India is the fastest-growing. We expect Japan to come in second, with $198 billion in tech spending. China and Japan dominate the AP tech market with about a 60% combined share. India is in third place, with total spending of around $70 billion.
In 2019, Forrester expects to see less digital transformation exuberance and more pragmatic investments aimed at improving operational efficiency and agility. Discerning CIOs will continue to accelerate their firms' business technology investments to help the brand differentiate and keep the revenue engine chugging.
Additional highlights from the report include:
Global tech market growth will slow to 4.5% in 2019 and 3.8% In 2020. Slowing economic growth in most countries will cause global tech market growth to slow from the 5% pace of 2018, with India, China, and the US seeing the strongest growth.
China is poised to lead the 5G race. Among all the tech goods and services, China will invest most heavily in telecommunications, which we project will account for 57% of the country's tech spending in 2019. China is best positioned to win the emerging global race to implement 5G mobile telecommunications, having outspent the US by $24 billion in that area since 2015.
ASEAN tech purchases will grow by 5% in 2020 as digital takes off. We expect the $30 billion that Singapore will spend on tech in 2019 and 2020 to lead ASEAN. In addition to its slowly progressing Smart Nation vision, Singapore is doubling down on digital to boost the competitiveness of enterprises at home and in the rest of ASEAN. Singapore also sees AI as an important enabler of long-term sustainability. The entry of digital-native firms like Amazon and Alibaba into Southeast Asia should create the necessary urgency for sectors like retail and logistics in other ASEAN markets to begin a long-overdue digital transformation.
Software and services will post the fastest growth in Asia Pacific. As their tech markets mature, APAC tech purchases will start to shift towards the software and services categories, with software and services purchases growing by 5-7%. Hardware spending strengthened in 2018, but demand will soften in 2019 and 2020, with growth slowing to 4%, while telecom and hardware maintenance spending growth will be more modest.
Cloud and business technology will grow faster but remain relatively small. Most Asia Pacific markets are not mature enough to support cloud solutions or make the most of business technology (BT). While the various permutations of the public cloud services market — cloud platform services, middleware, and applications — will grow from $18 billion in 2018 to $24 billion in 2020, cloud adoption in AP still lags that of the US and Europe. BT tech purchases in AP will grow by 4% to $104 billion in 2019 and by 5.5% to $110 billion in 2020 — slightly faster than overall tech spending in the region.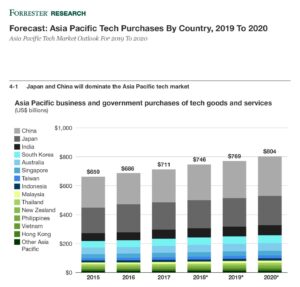 Categories