Featuring: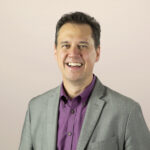 Anjali Lai, Senior Analyst and James McQuivey, VP, Principal Analyst
Show Notes:
In the digital age, customers can find any item, compare hundreds of brands, and have the object of their desire shipped right to their door — yet customer satisfaction is plateauing, even as brands continue to reduce friction and add convenience. The reason is a loss of meaning.
On this episode, Forrester Senior Analyst Anjali Lai and VP, Principal Analyst James McQuivey discuss Forrester's first-ever customer predictions report, which unravels a seemingly contradictory truth: Customers have more of what they want than ever before. And they're less happy.
An increasing number of customers aren't motivated by promises of convenience or shiny new tech toys. They want brands to help them form connections and live a more meaningful life. Customers are feeling the detrimental effects of existing in a "hollow universe," where their lives are filled with immediate material satisfaction, distracting entertainment, and little else.
In this episode, learn why customers want to get more meaning from the things they buy and associate with. Hear what this means for firms and the opportunities and limits posed by this shift in sentiment.