Rethinking Your IT Infrastructure And Operations: Q&A With Christophe Guillard, CTO Office, Sanofi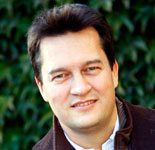 If you're interested in how to rethink your approach to IT infrastructure and operations (I&O) to help your business better compete, I encourage you to read on . . .
As I prepared for Forrester's Infrastructure & Operations Forum EMEA 2012 in Paris next week (June 19-20), I had the opportunity to connect with one of our industry keynoters, Christophe Guillard, who has led the CTO office at global healthcare company Sanofi since 2010. He is responsible for the strategic, financial, and process excellence of the New Global Infrastructure Services organization, which includes 800 collaborators, 110,000 users, and 400 sites worldwide.
At the Forum, Christophe will be joined by Ian M. Clayton, author, Universal Service Management Body of Knowledge, Gery Bonte, CTO, Saint-Gobain, and other industry keynoters. Next week, Christophe will share the comprehensive infrastructure transformation that took place at Sanofi. But below is a recap of our conversation that he will discuss further during his keynote:
DW: What were the main challenges you were faced with before you started this transformation?
CG: We embarked on our global IT transformation journey two years ago and, at the time, Sanofi IT was aligned to the structure of the company and mostly siloed within each business. As a result, collaboration across the different businesses and geographies was limited and some parts of our IT infrastructure were duplicated.
DW: What role does IT infrastructure play within the overall strategy of Sanofi, and what was this journey important from the management's perspective?
CG: A couple of years ago, Sanofi started to anticipate some challenges that all big pharmaceutical companies are facing: patent cliff, generics, cost pressure on healthcare. In response to these challenges, we developed a new strategy to become a diversified healthcare company focused on patients' needs, which has led to the implementation of new partnerships and acquisitions. It was key for Sanofi's management team that IT becomes "Agile at Global Scale" in order to enable this business maneuverability.
DW: What were some of the main projects that you and your team undertook?
CG: There have been several important projects, including the creation of a global and integrated operating model with a disciplined sourcing strategy. We also standardized our processes, tools, and technologies and consolidated our data centers into a private hybrid cloud based on 3 regional New Generation Data Centers.
DW: The new structure emphasizes a 'customer-centric focus and contribution to innovation.' What does that mean in practice?
CG: The transformation of backend infrastructure and processes generates significant savings but takes time and is not directly visible to our customers. We wanted to offer our end users some new services with a direct added value to their day-to-day activities. Among these, several collaborative services which are key to foster innovation across and beyond the enterprise.
DW: What type of metrics and KPIs did you set for yourself?
CG: At first, we started to develop lots of different KPIs aligned with the nature of each transformation project. However, as we progressed, we selected those metrics that were relevant across the entire program. For example, the number of jobs completed, the percentage of legacy activities transitioned, the number of applications transformed, processes standardized and so forth.
DW: Looking at lessons learnt, what would your advice be to other I&O professionals?
CG: One of the pieces of advice to any global peers about to start a similar IT transformation process would be to fully engage your managers and involve them at the core of the project. I would also ensure consistent funding across the duration and all components of the program. Finally, be transparent, and consider change management as a critical success factor, from day one.
DW: Thank you very much for your insights, Christophe, and we look forward to your keynote.
There is still time to join us at Forrester's Infrastructure & Operations Forum EMEA 2012 (Paris, June 19-20), and please find the agenda and all further details here.
Categories