Connecting The Human Being To The P&L
The fact that human beings make affinity and spend decisions based in large part on emotion is not new news. It is the underlying logic of advertising – heartstrings are the early sparks of revenue. But there is a reason that most companies have not baked emotion into experience design and into the day-to-day engagement with customers. It's hard to do.
Emotions are situational, dynamic, and hard to read. Yet the gulf between the science of emotion and the business of emotion is closing, creating a set of new tools to convert great experiences into sustained growth.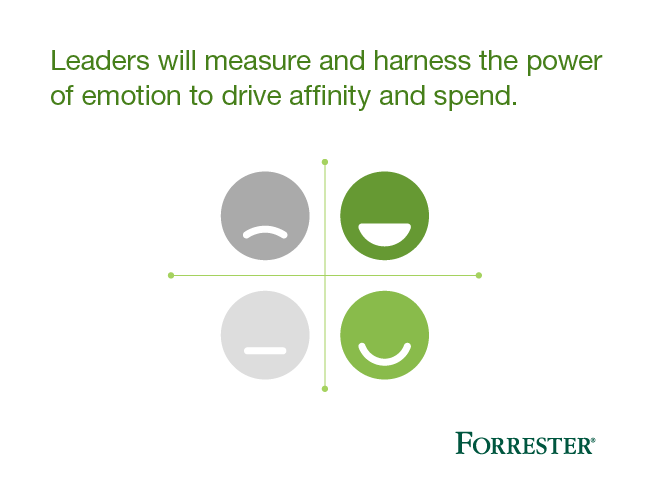 Last week during an online event, I brought together thought leaders, Anjali Lai, Harley Manning, and Roxie Strohmenger, to translate the science of emotion to the pragmatic business application of emotion. If you were unable to watch it live, here is the replay – and for good measure, here are key takeaways from our discussion:
Emotion is the next step in getting to know your customer.
The customer is now the center of the universe, and to win in this market, companies need to know – really know – their customer. Beyond satisfaction, advocacy, and journeys, companies must understand what makes customers tick and how to influence affinity and spend. Emotion is not the next thing "just because"; it gets to the heart and soul of operating in a customer-led market.
There is a 13-point average gap between the industry customer experience (CX) score and the score for making customer feel valued – a central premise in engendering an emotional relationship of consequence.
There is a 27-point average gap between the industry CX score and the score for rewarding the customer's loyalty – so when customers do invest emotionally, the payback is insufficient.
The gap is not surprising, as emotion is a new measure, and delivering experience to an individual's emotional state is not a trivial effort. That gap is presenting immediate risk: according to Forrester's Empowered Customer Segmentation, 46% of US adults surveyed have the skill and inclination to shift spend based, in great part, on not connecting emotionally with a brand. There's your direct relationship between emotion and the P&L, and today that relationship is mostly defined by revenue risk.
The lessons from big data: deep waters and rational fear of drowning.
Emotion is not a simple thing; it is a nuanced, conditional, dynamic state. If you sought to capture and respond to all of the different emotional states of individual customers at each touchpoint, you would drown in the data. So how do you design to individual emotions but not drown at the same time? The lessons come from big data where too many companies (for too many years) were treading in the deep water of data without creating high-value operational insights. Similar to the concept of hyper-filtering, you can identify and filter for those emotions that matter more than others (and that is truer for different industries). As an example, confidence matters more than happiness in wealth management. Companies can identify the set of emotions – those biased to the positive and those biased to the negative – that play a dominant role in triggering decisions. There are existing sources: social sentiment, contact center recordings, customer satisfaction surveys, and Voice of the Customer qualitative research to name a few. Mine them. Identify the specific emotions on which customers center and build a "template" of the most important emotions that lead to greater affinity and spend. With this method, you can capture customers at critical touchpoints and design experiences that engender these emotions.
Data-driven, human-centered design.
Bridging the emotion gap is all about design: data-driven, human-centered design. Blending account, transactional, and interaction data from customers with emotional data creates powerful fuel for experience design. The goal is to focus on signature moments – the moments when your customer is paying close attention, emotions are triggering loyalty/economic decisions, and you can deliver an experience affirming the best of your brand.
The impact of emotion is the same as it's always been. The difference today is that customers – not your company – sit at the center of the universe and because of that, emotion serves as either fuel or hurdles for the P&L.
For more on measuring emotion, check out this recent episode from Forrester's CX Cast.
Categories