2015 Sales Leadership Exchange: Day One Highlights
The first day of SiriusDecisions' Sales Leadership Exchange (SLE) offered many insights about the state of B2B sales
According to SiriusDecisions' Sales Leaders Survey, beating out the competition ranks as the most critical challenge
Sales leaders were urged to "relentlessly focus on sales productivity"
Stuck somewhere other than San Diego right now? Maybe you're staring at massive piles of snow outside and wishing you were in Southern California, soaking up both sunshine and B2B sales insights at the 2015 SiriusDecisions Sales Leadership Exchange (SLE).
We can't help with the winter weather, but here's a taste of the first day of the SLE: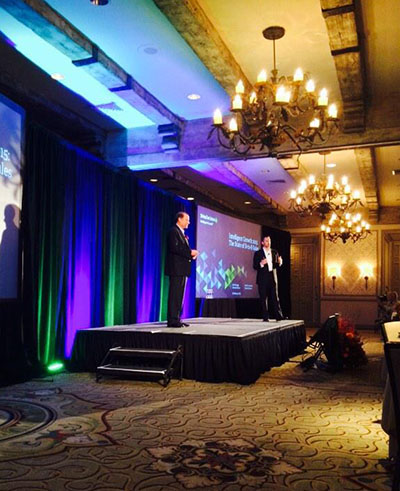 Wednesday's events kicked off with a welcome address from Colleen Honan, followed by delivery of research findings from Jim Ninivaggi, Mark Levinson and Laz Gonzalez, SLE co-chairs.
As the presentation – titled "Intelligent Growth 2015: The State of B2B Sales" – made clear, 2015 is shaping up to be a year of exciting growth for most B2B organizations. Primary avenues of growth include targeting new buyers and entering new markets.
But for sales leaders, reaching their increasingly ambitious targets requires overcoming several common obstacles. According to SiriusDecisions' Sales Leaders Survey, beating out new and existing competition ranked as the most critical challenge.
Sales leaders must also address pressing issues related to their talent (including recruitment, ongoing development, retention and onboarding) and product (including competitive offerings, meeting buyer needs, innovation and launch concerns). Buyer identification and engagement, and internal support, such as filling the top of the sales funnel, will likely also pose challenges.
With this full plate, what can savvy sales leaders do to ensure their teams continue to contribute to organizational growth? Jim, Mark and Laz offered key recommendations tailored to each sales role.
Sales leadership was encouraged to "relentlessly focus on productivity" and lead the rest of the sales organization's alignment efforts. Sales operations and sales enablement leaders should seek maximize efficiency and effectiveness, and target investments to overcome growth challenges. Channel sales executives were encouraged to select partners based on growth priorities, and focus their partner enablement efforts on competitive intelligence.
The day's sessions closed with a fascinating glimpse into the future from keynote speaker Dr. James Canton, CEO at the Institute for Global Futures. Canton urged the audience of sales leaders to help disrupt their own companies, prioritizing experimentation, innovation and continuous learning in order to stay ahead of the curve. In particular, always-on Internet and highly connected customers will require expertise in predictive selling.
The future of marketing will also require change, Canton said. Social media, mobile marketing and content management are expected to be high priorities, and the importance of data and analytics will only continue to grow.
With a vision of both the present and the future – and of both challenges and opportunities – SLE delegates had a lot to think about by the end of the day. They closed with a networking break over local craft beers, then gathered for the opening dinner reception.
Check back tomorrow for a recap of the second day's proceedings! In the meantime, make sure to follow #SDExchange on Twitter for real-time and post-event conversation and bite-sized insights.
Categories