Three Ways Data Can Make or Break Your 2019 Channel Strategy
Channel leaders often don't even realize they have insufficient data – or they're focusing on the wrong data – until performance starts suffering
As suppliers restructure partner programs to accommodate new go-to-market models and partner types, data gathering becomes even more important
Focus on getting the right data for partner programs, demand generation plans and customer advocacy initiatives
The end of every year and the impending new year always introduce a familiar list of seasonal tasks – from attending feasts and buying gifts to making resolutions. For B2B channel leaders, evaluating their data strategy for the upcoming year must also be a priority.
The fact is, data is a big success factor across all of B2B, and the channel is no exception. Unfortunately, many suppliers remain blissfully unaware that they're operating with insufficient data – or the wrong data – until they miss their goals or start losing an excessive number of partners and buyers.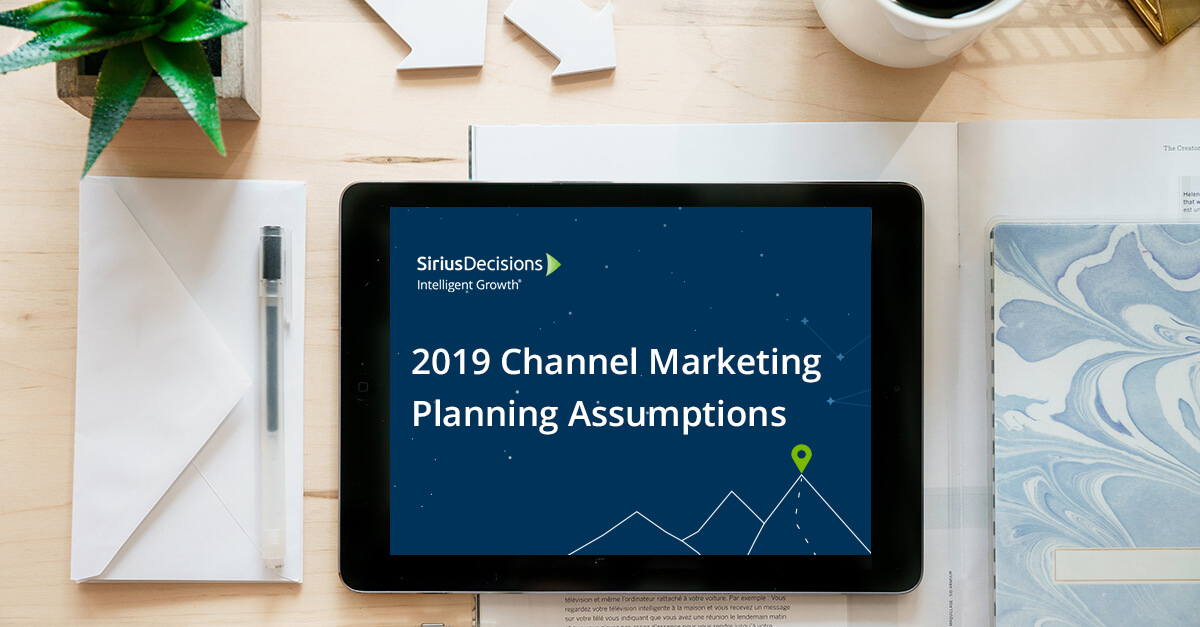 In a rapidly changing channel space, many suppliers have focused on three types of initiatives: restructuring their partner programs, generating increased demand for their products and solutions, and building customer advocacy programs. I recently spoke with Maria Chien, service director for SiriusDecisions' Channel Marketing Strategies service, about how data can help drive success in each of these areas:
Program design. Maria noted that many suppliers are currently re-examining their partner program structure. With partner types consolidating and shifting, many suppliers find themselves without a clear business model to support their partners. At the same time, an increased emphasis on business through the channel makes program design even more important. "If they don't evolve, they won't be able to support future growth and adoption and build mindshare with partners," Maria said. But designing suitable programs requires data on existing programs, internal growth strategies, and changes in the marketplace. Suppliers that don't incorporate all of this relevant data intro their partner program design may find that, although partners may remain in their program, they will be inactive, resulting in declining growth rates, negative experiences and slow adoption.
Demand generation. Helping partners drive demand requires a wealth of data on the partners themselves as well as their customers. "Without data on who the target customers are and how much demand partners need to seed the top of the funnel, you're taking an ad hoc approach," Maria explained. "You're not marketing with the precision that's needed to meet your goals and help partners meet their goals." Many suppliers lack a full understanding of who their partners' buyers are, making it difficult to align demand tactics, provide optimal programmatic support and enable partners to reach the right buyer personas. Maria recommended collecting and using extensive partner profile information, including data on each partner's target buyers, business models, and sales and marketing capabilities.
Customer advocacy. Engaging partners across the entire customer lifecycle has become increasingly important. Organizations selling through the channel often actively gather customer references, testimonials and other assets to fuel their customer advocacy programs. However, many lack adequate coverage of their customers obtained through partners, resulting in gaps within customer advocacy programs. "Partners do not have the bandwidth or resources to create customer advocacy programs on their own," Maria said. Instead, suppliers must incorporate partners into their own initiatives and provide prescriptive support, guidance and enablement – focusing, of course, on gathering data. They must develop a thorough understanding of their partners' customers, including information on how customers engage post-purchase. Building out this data not only enhances advocacy programs and encourages loyalty, but also provides a fuller picture of partner activities.
For more information on channel best practices as you gear up for 2019, consult SiriusDecisions' 2019 channel marketing planning assumptions!