"I Want to Talk to the Leaders Here": Common's Inspiring Vision of True Leadership Kicks Off SiriusDecisions Summit 2019
Award-winning hip-hop artist, actor and activist Common kicked off SiriusDecisions Summit 2019 with a deeply inspirational keynote on what makes a leader
Being a true leader isn't about the money or achievements – service, self-improvement and learning should serve as guiding themes
Common urged the B2B sales, marketing and product leaders in attendance at Summit to incorporate the principles of true leadership into their professional and personal lives
"In this room, there are so many leaders," said Common, looking out at the sea of attendees assembled at the Austin Convention Center Monday morning at SiriusDecisions Summit. "There are so many people here who have the power to change things not only from a company perspective, but also from a human perspective."
Common, an award-winning rapper, actor and philanthropist whose artistic accolades are matched only by his passion to serve and inspire others, delivered a rousing opening keynote that delved into the huge difference between simply having a job title and true leadership.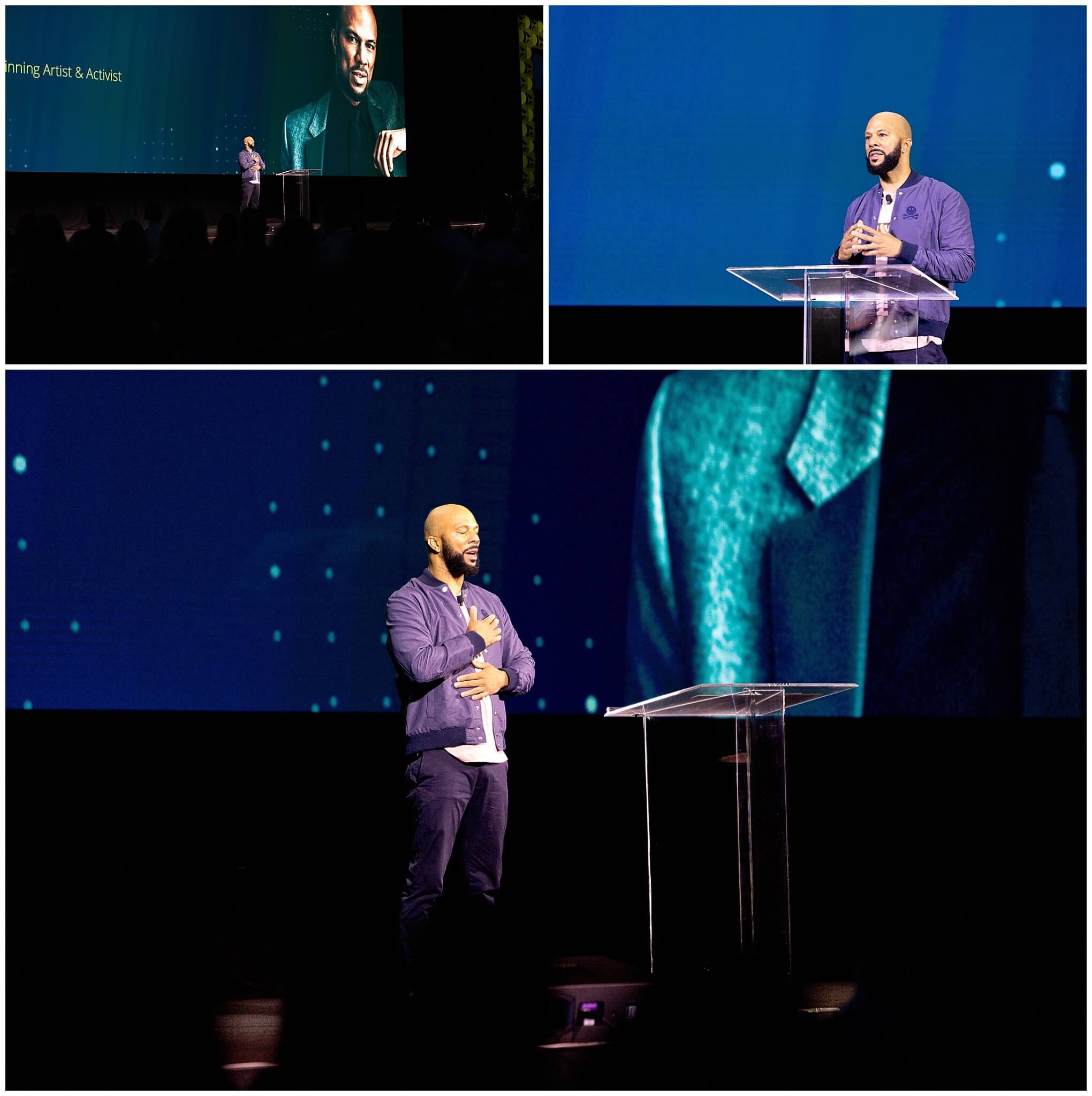 In the high-pressure, rapidly changing world of B2B marketing, sales and product, it's easy to become absorbed by the daily grind of endless emails, meetings and deadlines. But whether you're a brand-new junior employee or already the CEO, taking a step back and examining your higher purpose is critical to forging the path to true leadership. As Common explained to Summit attendees, leadership and greatness are not defined by accumulated wealth or intellectual prowess; service is the key.
"The true people who are changing the dynamics of our country are those who are ready to serve," he said – adding the famous words by Dr. Martin Luther King, Jr. on leadership: "You only need a heart full of grace, a soul generated by love." Service-minded leaders go into communities different from their own and learn from the people around them; they help their team members flourish at work; they mentor and offer career opportunities to those who may not otherwise receive them.
Fully developing the essential capacity to love and serve others starts with the self. Mental health is essential but often neglected or downplayed, said Common. Whether from spirituality, physical exercise, art, professional counseling, mindfulness or a combination of any of these tools, we can all "feed ourselves" and thus place ourselves in an optimal position to serve others.
"Sometimes we don't express the things we need help with," he explained. "Sometimes we don't know the source of our pain, but we need to find a way to move forward."
Developing resilience and healing any emotional wounds propels a good leader forward in spite of whatever obstacles may appear in life. Common recalled a perspective-shifting conversation with fellow rapper Jay-Z, who has famously achieved great business and personal success and endured turmoil. "He's experienced tough times, but he said the hardest work was within himself," Common said. "It showed me that no matter what level we get to, we all need that help working on ourselves sometimes."
Leaders can also fortify themselves to deal with setbacks by staying focused on their purpose and passion, Common said, citing a disappointing 2006 Grammy outing when he was nominated for five awards but failed to take home a single golden statue. After immediately returning to the recording studio with Kanye West and creating new music with his higher purpose in mind, he won a Grammy the following year. "These are the things that build perseverance," he said.
Even at his artistic peaks, Common sought to ultimately tie his success back to service. The visible platform he has received as a hip-hop artist and activist always demands the question of how best to use those titles to serve his country and people, he said. Freedom, justice and equality will always be at the forefront.
But of course, one need not win Grammys or inhabit a CEO suite to have an impact and be a true leader.
"The beauty of service is that you don't have to be the richest person or have the most Twitter followers," Common reminded the audience. He closed with a slightly Summit-themed twist on the famous Muhammad Ali quotation on the importance of service: "Service for others is the rent you pay for your room here on earth, and SiriusDecisions, your rent is due."
Categories