2019 US Online Holiday Sales: Retailers, Buckle Up For A Strong Season
This blog post is part of Forrester's Holiday 2019 retail series.
Good news: The outlook for US online holiday sales is healthy! For many retailers, the holiday season represents the single most important two months for sales. In fact, November and December will deliver close to one-fifth of total 2019 US retail sales.
Our just-published 2019 online holiday retail sales forecast outlines some of the details, including:
2019 online holiday sales will reach $138 billion. This figure represents a healthy year-over-year growth of 12.7%. Despite worries of an economic slowdown and trade discussions with China, consistent GDP and wage growth will buoy online holiday sales this season.
Category spending is shifting. Perennial holiday favorites — electronics, along with clothing and accessories — will continue to dominate online holiday spending this year. These two categories together represent over 40% of total online holiday spend. But the fastest-growing category this year is food and drink.
To find out more about the 2019 online holiday retail sales forecast, read the full report.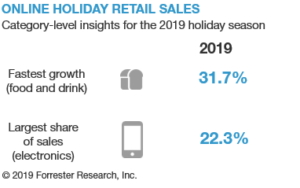 Categories