A Five-Year View of Product, Marketing and Sales
B2B leaders must balance their focus on execution and performance improvement with a readiness to respond to new trends and opportunities
From quarterly earnings to year-over-year comparisons, business leaders are famous for their focus on near-term results. However, a balanced approach to strategy and planning also requires a long-term, blue-sky outlook, characterized by a readiness to respond to new trends and developments.
This imperative to "embrace the unknown" was the message of SiriusDecisions' Jason Hekl, Jeff Lash and Mark Levinson at Summit 2014 in Orlando, as they provided a five-year strategic outlook for B2B leaders. Their wide-ranging conversation focused on three potential upcoming changes that might have a major impact on B2B organizations.
One: What if your biggest competitor in 2019 does not exist today?
Jeff kicked off the first discussion topic – focusing on disruptive market change and competition – by reviewing a lineup of fast-growing companies and products that did not exist five years ago but are now rapidly growing, including the Lyft ride-sharing service, other startups such as Fuze and Zoom, as well as Apple's iPad and Google's Hangouts.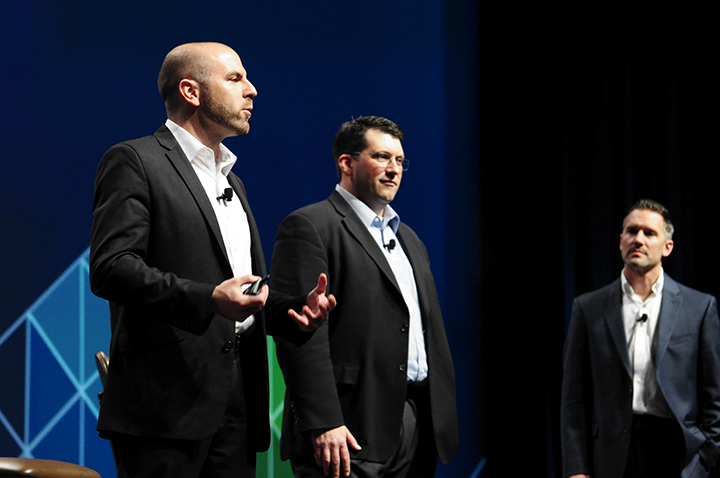 "What if the question isn't whether or not you will be disrupted, but when and by whom?" Jeff said. "Does that sound crazy? Maybe you're right – but if you stick with that mentality, you're almost certainly going to get caught off-guard."
To cope with the risk of disruptive competition, Jeff recommended that B2B product leaders disrupt themselves – by identifying areas of change, searching for new growth opportunities, and overhauling their processes so that they are ready to move quickly.
"Product managers need to realize that it's not about creating the perfect product," Jeff said. "If you look at examples of disruptors, you can argue that in many cases their offerings weren't better overall – but they were good enough in the areas that count. Successful product managers in the future will be measured by their ability to get a good enough product out sooner rather than a perfect product out later."
Marketing and sales also need to respond rapidly and aggressively to new competition. "What can we, as marketers, do when a new competitor emerges," asked Jason, "particularly disrupters of the nature that Jeff highlighted? Do you feel the same sense of urgency that the sales teams you support feel? Even considering that question can result in a wholesale rethinking of marketing practices. You need the capability to quickly identify threats or opportunities, and then activate resources to swarm them."
Two: What if, by 2019, B2B leaders all think and act more like scientists?
Jason introduced the second discussion, focusing on the benefits of applying a more rigorous scientific approach to marketing – leveraging the technology and data that are now available, and systematically applying principles of observation, measurement and experimentation to test and validate marketing and growth strategies.
A more scientific, measurement-based approach will also impact sales leaders, noted Mark, who explained how the jobs of sales reps and partners can be construed as testing the organization's hypotheses about what campaigns, programs and tactics will prove effective and efficient at convincing buyers to make a purchasing decision.
"A scientific approach is not a constraint, but a great enabler," said Jason. "The scientist marketers that we envision are logical, analytical and methodical – but they are also free-spirited, adventurous and expansive in their thinking. They are unencumbered by the biases and constraints that so often restrict how adults think and act."
Jason recommended that Summit attendees start by using experimentation to test the upper limits of their best campaigns: "Challenge your teams to question assumptions for the campaign, analyze in new ways the data that you have, form new hypotheses to test, and run experiments. Many of these experiments may lead nowhere, but perhaps a few will lead to breakthrough growth, and set new precedents for marketing's performance and impact."
Three: What if you have no control at all over the buying process by 2019?
The final discussion topic was introduced by Mark, focusing on how B2B leaders should respond to the logical conclusion of the trend of B2B sales reps losing control over the buying process to self-guided, digitally empowered buyers.
"What happens when the sales process is no longer consistent and becomes completely fluid in nature?" Mark asked. "We have to remember that, as chaotic as the sales process has become, we still need to deliver insight that makes sense and helps sales reps understand what to do."
As a way to achieve this objective, Mark explained the concept of dynamic guided selling, which relies on data analysis, tools to deliver sales intelligence, and dedicated coaching to help sales reps rapidly react to unpredictable buyer interactions and change course without losing time. For example, sales force automation platforms will need to transform from static input tools to proactive alerting systems that learn from historical trends and can help interpret new data to predict change and guide reps toward the most effective course of action.
Jason and Jeff described how marketing and product leaders can help buyers and sellers navigate an unpredictable buying process – for example, with predictive lead scoring, personalized Web site experiences, and adding demos and other pre-sale capabilities to the product so that it can help fuel the buying process.
"Take just one of your successful opportunities that was an outlier," Mark advised the Summit attendees. "It did not follow the current process, and it demonstrated a completely new pattern of buyer engagement. Next, identify how the sales team adapted to the changes and what insight was required, and diagnose if your organization would be capable of repeating that success if all the opportunities in your pipeline become uncontrollable."
Categories