A Typical Day Of Analyst Life
We're hiring! Forrester's security and risk research team is growing and currently has four open analyst positions: identity and access management, application security, security analytics, and Zero Trust.
When I speak to candidates about the analyst role, they all ask one question that I find difficult to answer: "What's a typical day like for an analyst?"
A Week In The Office, When Not Traveling
My days are a mix of research, consulting, inquiries, and briefings. There's the occasional call in the evening to accommodate clients or colleagues in Asia Pacific (I'm based on the East Coast).

Life During A Wave
I recently completed a Forrester Wave™ evaluating 13 vendors. At its peak, my days fluctuated between these two types of days for three weeks.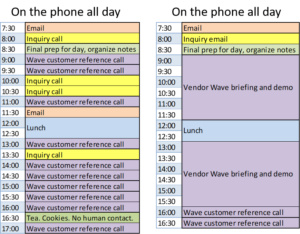 Then There's The Travel . . .
Often, candidates assume that analysts are constantly traveling. There is travel: an in-person day with a client, speaking at an event, a must-attend industry conference to meet with clients, or an analyst event that is relevant to research coverage.
The longest stretch of travel I do is six weeks when I'm on the road during the week and home for the weekend. This doesn't happen often for me, and if it does, it's likely in the spring or fall. The travel ebbs and flows. I attended one local event in May and did not go anywhere in June.
Come Join Us!
I hope this helps to shed some light on what to expect and why a typical day is challenging to define. Talking to other analysts on the team, you'll hear a variation of similar elements that go into their days. A common theme: There's never a dull day.
Are there other questions you have about the analyst role or the team? Let me know!