Authenticity, Mindfulness and How to Live a Life Uncommon: Jewel Sets an Inspirational Tone for Summit 2017
Singer, songwriter, actress, poet, painter, philanthropist

Jewel was the Opening Day Keynote speaker at Summit 2017

From the moment she stepped on stage at the Venetian in Las Vegas, Jewel spoke (and sang!) from the heart to a spellbound crowd of Summit attendees
Authenticity, mindfulness and how to live a life uncommon – Jewel

sets an inspirational tone for Summit 2017
It should come as no surprise that, when set against the one-of-a-kind, shimmering stage of Las Vegas, Summit 2017, the premier event for B2B sales, marketing and product leaders, opened with an absolutely show-stopping first day.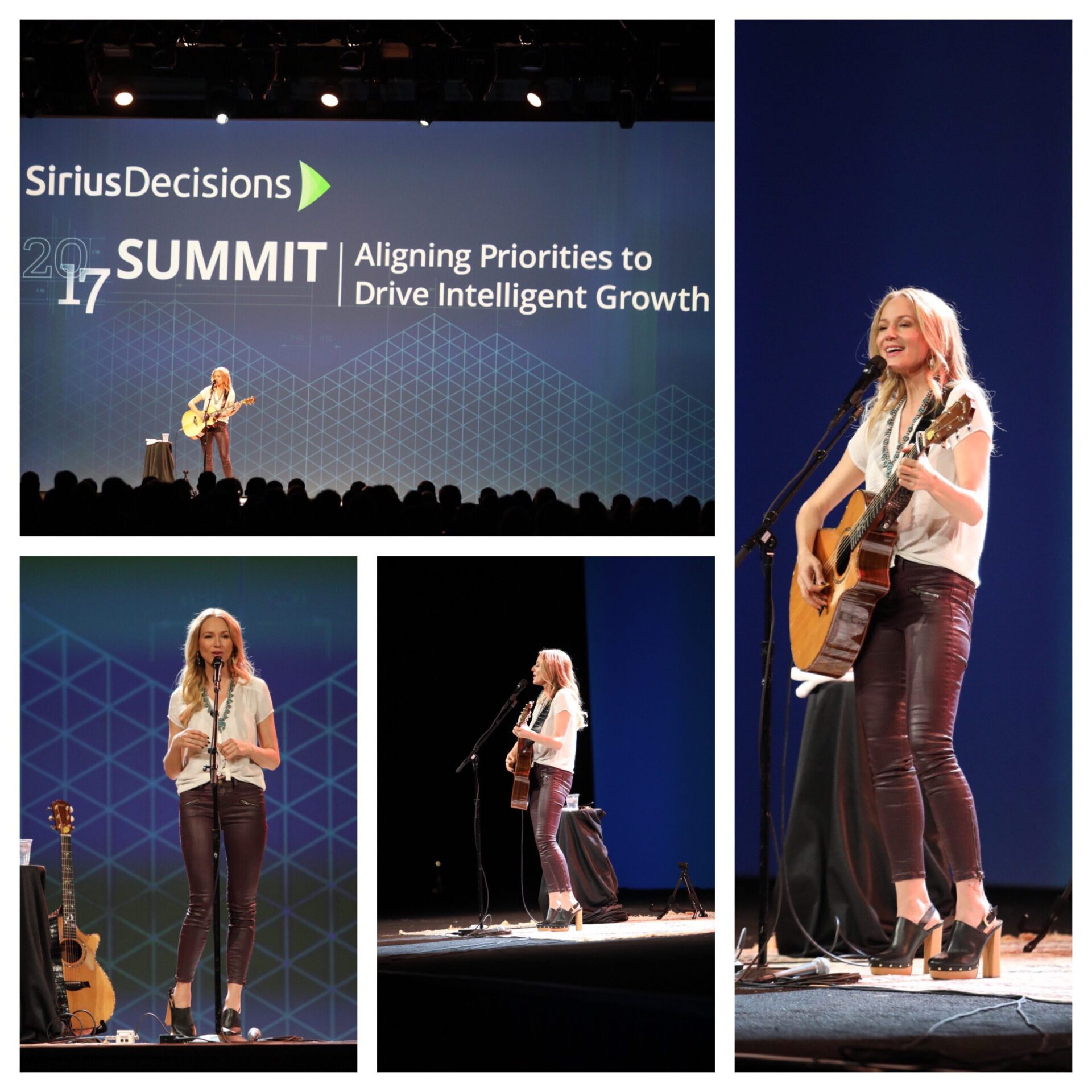 Singer, songwriter, actress, poet, painter, philanthropist – not many can lay claim to this trove of achievements, and it was an incredible honor for SiriusDecisions to host Jewel as our Summit 2017 Opening Day Keynote speaker. From the remote ranch of her Alaskan youth to the triumph of international stardom, Jewel, a four-time Grammy nominee, has enjoyed a career that she has very much set on her own terms. And from the moment she stepped on stage in Las Vegas, Jewel spoke (and sang!) from the heart to an absolutely spellbound crowd of Summit attendees – starting things off with a haunting acapella rendition of "Somewhere Over the Rainbow."
As she picked up her guitar, Jewel shared with the crowd, "When I was growing up, I felt like a little girl who would never see the other side of that rainbow; happiness was something for other people. I knew that if I wanted to not end up as a statistic, I needed to learn an emotional language."
Jewel is an artist who, in some way, has touched us all since her arrival on the music scene in 1995 with the deeply introspective, modern folk collection, Pieces of You. Shortly after her enormously successful debut, Jewel hit the road, touring with and opening for Bob Dylan, Merle Haggard and Neil Young. Even still, with over 27 million albums sold, Jewel knew there was deeper meaning in life that she was looking to uncover.
"I wanted an opportunity to do something l love every day. But also, how do I be a happy, whole human? Being a musician was my number-two job. I was lucky in that I attracted a fan base that wants to learn how to live an authentic life." After singing her hit "Hands," Jewel mused to the audience full of B2B sales, marketing and product leaders, "Your fans follow you on your journey when it's authentic and valuable."
Jewel went on to share more about her fascinating life story and climb to success, interweaving the common thread of her lifelong dedication to the pursuit of mindfulness. In her memoir, Never Broken, Jewel explored her unconventional upbringing and inspiration to launch jewelneverbroken.com, a Web site created with the aim of learning how to make happiness a habit and that also serves as a place to build a community around what she terms "emotional fitness." Once again, Jewel spoke about how she turned her thoughts inward and set about building a life filled with things that she is passionate about. "I looked at what is my actual offering. My music has been a soundtrack to a lifestyle. We are all looking for the same thing – an authentic expression of our lives."
Never one to rest on her laurels, Jewel spoke of her next chapter which includes creating curriculum for schools and skills for business leaders that have mindfulness at their core and are centered on educating the whole human. "Mindfulness is observing a thought and creating a gap before acting upon that thought," she said.
Remembering the poignant words that Jewel sang in "Hands" – "In the end only kindness matters" – with day one in the books, now it's time to take a step back, focus, enjoy this time with peers and colleagues and take in all that Summit has to offer – it's going be an unforgettable week!
Stay tuned for more highlights from Summit 2017!
Categories