Avoiding Pitfalls of Go-to-Market Model Adoption
Tackling B2B alignment issues can lead to big rewards – as much as 19 percent faster revenue growth and 15 percent more profit
Many clients use the SiriusDecisions Product Marketing and Management (PMM) Model to drive successful go-to-market alignment
The PMM Model is comprehensive and designed to address strategy, execution and growth across multiple functions in the organization
Tackling B2B alignment issues can lead to big rewards – as much as 19 percent faster revenue growth and 15 percent more profit. Many of our clients use the SiriusDecisions Product Marketing and Management (PMM) Model to drive successful go-to-market alignment. Given the financial value at stake, these clients prepared and planned to ensure they avoided any pitfalls along the way.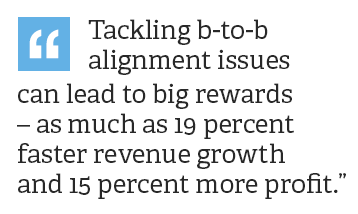 The PMM Model is comprehensive and designed to address strategy, execution and growth across multiple functions in the organization. So, it comes as no surprise that common pitfalls are typically related to soft skills. Based on client experiences and our own coaching on adoption of the model, here are some popular sayings to remind you of potential the missteps to avoid when gaining adoption of your go-to-market model:
"It takes a village."

B2B organizations with successful go-to-market models did not create them in a silo and throw them over the wall one day. They planned for proper cross-functional representation and made each team part of the process in developing the model. That meant pulling in the right stakeholders from multiple marketing disciplines, product management, sales and services who could launch the model into their functions and support it.

"Keep your friends close and your enemies closer."

Those opposed to adopting a go-to-market model were not ignored. Contrarians were specifically targeted and convinced to provide input and become part of the solution. That way, they were more likely to take ownership and champion the model at launch time. Even if there were no enemies of the model, the best of relationships cannot work without aligned processes and clearly defined roles and responsibilities.

"What's in a name?"

Clients take the white-label approach with our PMM Model. They tailor the model to their business needs and rebrand it. Giving the model a name gives it life. Depending on the culture, some clients had fun with the name or followed guidelines for internal branding. It helped to keep acronyms to a minimum. Having the name in place before going in front of the innovation council to get approval was crucial in getting signoff and ensured executives left the meeting building internal awareness for the model.

"I've got your back."

Executive support was the first step – even before the first planning meeting. Without the right cheerleader in the C-suite, the model would have never been accepted and adopted. Most organizations used the CMO for executive support, while some used a tag team of the CMO and product leader. This executive role provided air cover and helped navigate obstacles.

Give them something to talk about.

Members of the model team representing different functions socialized the model at every opportunity. They wanted employees talking about the model. This prevented bottlenecks at launch from a lack of understanding of the model and its purpose. In addition, they displayed a large printout of the model in their offices to invite conversation. It also didn't hurt to accidentally leave the model behind in key conference rooms with the word "confidential" in big, bold red letters.
If you'd like to know more about the PMM Model, clients in our Portfolio Marketing and Product Management advisory services have access to Using the SiriusDecisions PMM Model to Drive Intelligent Growth. I'd love to hear how you have avoided the pitfalls of a go-to-market adoption. Even better, include a popular saying or song title to describe your advice!
Categories