B2B Sales Leaders: Balance Strategic And Tactical Investments In 2023
Even a few of the current "gloomy" economic indicators could make it all too easy for sales executives to hunker down and prepare to weather the storm. A conservative approach might be to slow hiring, curtail travel, stall investments in technology, and defer training and enablement expenses. Instead, experience from past economic slumps indicates that leaders must balance essential strategic investments with "quick win" tactical investments.
Invest In Scalable Growth Initiatives
As sales leaders plan for growth and performance, they should prioritize both short- and long-term initiatives. Achieving quick wins while leading enterprise projects increases the likelihood of continuously hitting bookings targets. In the current climate, sales leaders should invest in:
Sales transformation. 71.

7% of surveyed firstline sales managers (FLSMs) from high-performing organizations strongly or somewhat agree that sales transformation must be a major initiative in their organization over the next three years (source: Forrester's Winter Sales Survey, 2022). Sales leaders should continue to transform their organizations to a scalable growth model despite disruptions in the economy.

Forrester's Insights-Driven Sales System

provides that model. It deemphasizes reliance on a small set of heroic reps or dramatic increases in sales headcount. Instead, it emphasizes investments in scalable growth levers: integrated processes and technologies that are based on data-driven, actionable insights. Balance your investment mix to include both quick-win and enterprise projects.

Prioritize investments

that provide high value to buyers, as well as those that increase productivity of sellers.

 

FLSMs. FLSMs are the backbone of a sales organization and are key to boosting seller performance. One of the most effective strategies to improve both seller wellness and seller productivity is regular, effective feedback from their FLSMs. 61.8% of reps report that feedback and coaching from their FLSM is effective and improves performance. Only 50% of surveyed sales executives, however, are increasing and emphasizing the need for managers to be skilled coaches. Make a strategic investment to improve the feedback and coaching competencies of your FLSM team. 
E-commerce and digital marketplaces. Routes-to-market (RTM) strategies are being evaluated and updated to meet increasing demand from buyers for better experiences. Sales leaders are creating more balance in their RTM strategies by investing in e-commerce and digital marketplaces. B2B e-commerce reduces friction in buyer journeys and shortens their buying cycle. In Forrester's 2022 B2B E-Commerce Forecast, US, it's estimated that US B2B e-commerce will reach $3 trillion by 2027 and account for 24% of total US B2B sales. Sales executives should make strategic investments to expand their e-commerce capabilities.
High-Performing Organizations Balance Their RTMs
Second-line, senior, or executive-level managers (director-/VP-/CSO-/CRO-level personnel managing managers) surveyed in Forrester's Winter Sales Survey, 2022, reported the following routes to market: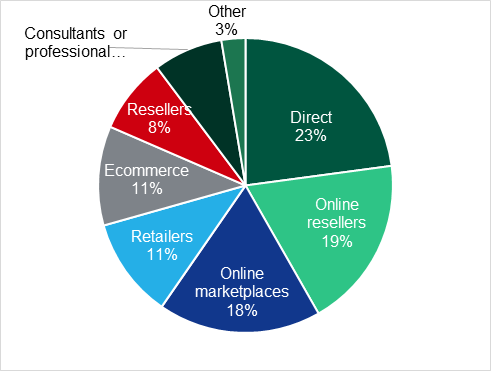 Reduce Spend In Underperforming GTM Segments
Reallocate resources toward high-potential customers and market segments. Don't completely ignore buyers in segments facing economic challenges, however. Instead, work with your CMO and your partner ecosystems to invest in lower-cost nurture programs. These will reduce spend while positioning your organization to be first in line when recovery comes to these organizations and they're ready to buy again.
Experiment With End-To-End Self-Service Buying
Buyers' preference for a self-service buying experience continues to climb. In fact, Forrester's 2021 B2B Buying Survey reveals the number of self-directed buying interactions is greater than the number of human interactions (15 and 12, respectively). Companies are increasingly enabling customers to try a product before they buy it — or invest less in basic versions first. Often, these sales are activated through the company website. As users engage with the product, information is provided about what else could be done with a more robust (i.e., paid) version. Experiment with pilots of product-led growth opportunities in targeted market segments.
Get our full advice for B2B sales leaders in Planning Guide 2023: B2B Sales Executives. And explore the many other resources on our Planning Guides 2023 hub.
Related Forrester Content