Bosch's Cultural Transformation Offers Lessons For Other Businesses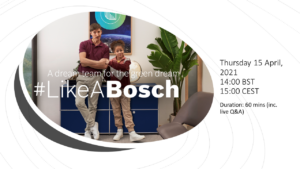 Bosch's CEO, Volkmar Denner, observes that "there can be no digital transformation without cultural change." In the wake of digitalization, Denner realized that if Bosch didn't embrace culture as part of its digital transformation initiative, culture would come back to haunt it — which would undermine its innovation activities.
The implications of cultural transformation affect the entire Bosch organization, including HR, product development, technology, finance, and management. In the last few years, Bosch has learned that cultural transformation is a continuous process, to be aware not to underestimate the value of its existing culture, and to firmly root its cultural transformation in a broader business context.
Forrester published a case study of Bosch's cultural transformation. As a follow-up, we're hosting a virtual panel session to discuss Bosch's vision for and lessons learned during its ongoing cultural transformation process. I am pleased to announce that for this session we will be joined by Bosch's Germán Barona, chief consultant for organizational development, cultural transformation, and leadership culture at Bosch, and Simon Jessen, senior expert on organizational development at Bosch.IO.
This panel session offers business and tech leaders insights and best practices on how Bosch's ongoing cultural transformation helps the company transform into a more innovative and adaptive business. Listen to how Bosch is carefully weighing issues such as the speed of its cultural change and the impact on its brand image as an innovator against the value of its existing culture. And learn how to avoid obstacles, such as when old product development models are colliding with innovation.
We hope you can join us. Register here for the virtual panel session on 15 April 2021 at 3 p.m. CEST/9 a.m. EST.