B2B Agency Selection: Three RFP Red Flags
When reviewing proposals from agencies, watch out for common red flags
A seemingly great RFP response might actually be a generic copied-and-pasted document
Make sure agencies have developed a thorough understanding of your company culture and processes
You're ready to bring on a new service provider. You've sent out your RFP and received several responses from seemingly qualified agencies.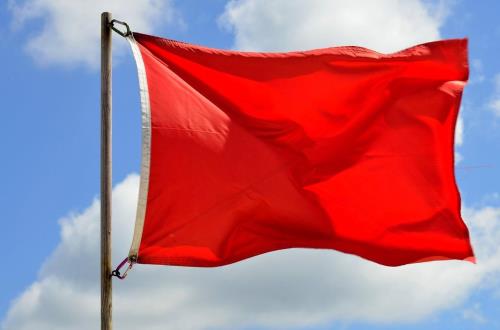 Now what? Chances are, many RFP responses will initially seem promising. But what,exactly, should you look for as you begin to dig deeper into each agency's proposal and then meet with the best candidates? I recently spoke with Rachel Metscher, senior director of brand and marketing communications at ICF International, about three major red flags to watch out for during the proposal review process.
Red Flag #1: Lack of alignment and trust.
An effective agency relationship requires placing trust in a third party to conduct critical work for the organization and sometimes act on its behalf. This means the agency must have a deep understanding of its client's culture.
"Culture is a huge part of projects – especially branding projects," Rachel said. "If the agency is not curious about your org and having conversations with its people about culture, it is hard to do the work." Beware agencies that seem to simply provide data points without context or relevance.
Although follow up conversations with final candidates will be the true test of trust and compatibility, start evaluating your level of trust in each agency when reviewing RFP responses. Rachel said that during her agency review process, she noted her experiences with each agency as part of the pre-sale stage. How you are treated before you sign the dotted line is how your account will be managed. Again, demonstrating an understanding of company culture in the proposal goes a long way toward establishing trust.
"In theory, you are bringing in the agency because you don't have a certain skill set," she explained. "So, consider whether you would take this agency's advice, even if it hurt in some way. Many times, when you bring an agency in, you'll see information on your culture and sometimes hear things you don't want to hear."
Red Flag #2: No specificity.
Rachel recommended examining each agency's proposal for signs that it understands your industry and your company beyond the surface. For example, do the case studies included seem canned, or do they reflect an understanding of – or, at least, an interest in – your processes and methodologies? Do they demonstrate that the organization conducted substantial research before submitting its response?
However, every detail need not be tailored to the organization. Experienced agencies know, for example, how long certain types of standard projects typically take them, what steps are required, and what types of obstacles might be encountered over the course of the project, and these plans might not be customized in the proposal.
"Every agency has a boilerplate response in some way," Rachel said. "We don't mind if it's clear they have done their research and are intellectually curious about us. It is the unique insight to the company that we are looking for. What are the insights you plan to bring beyond the obvious?"
Red Flag #3: Unwillingness to follow instructions.
What's one surefire way for an agency to get its proposal thrown away? Disregarding any procedural or formatting instructions the organization provided with its RFP.
"If they ignore my guidelines now, they are going to ignore my guidelines during the project – I implement these guidelines for a reason," Rachel explained. Plus, if agencies are told to stick to a particular page limit, sending a response that's 30 pages too long often means that stakeholders simply won't have time to read through all the extra verbiage.
In addition to looking out for these three red flags, Rachel recommended using a scorecard listing all criteria that the organization finds most critical, and formalizing review procedures as much as possible. For a recent agency selection, ICF asked 13 reviewers – plus a SiriusDecisions analyst – to review all proposals through a two-round process that ultimately resulted in ranking all RFP responses and sending recommendations to the CEO and other executives in order to select the short list. This review process enabled the team to make a selection faster because all stakeholders were brought in and heard.
And for additional tips on reviewing RFP responses, make sure to check out these tips from Cheri Keith on determining which agency is the best fit for your organization!
Categories