By the Numbers: Campaign Planning at Emerging Companies
Findings of the 2016 Global CMO study indicate that emerging.companies (under $50 million in revenue) do not have a firm definition of the campaign process.
Emerging.companies are 38 percent less likely to use the campaign planning process and 97 percent less likely to add campaign managers than $51 million to $250 million.companies.
Emerging.companies can and should run integrated campaigns, even with limited resources.
Despite growing up with Hanna-Barbera shows, when watching The Smurfs I was always baffled as to why the word "smurf" could be used as a noun, verb and sometimes even an adjective. Similar confusion exists around the use of the word "campaign," as tactics, content and delivery mechanisms are all referred to as "campaigns" by B2B marketers. When in doubt, look it up. Webster's Dictionary defines a campaign as a series of activities designed to produce a particular result.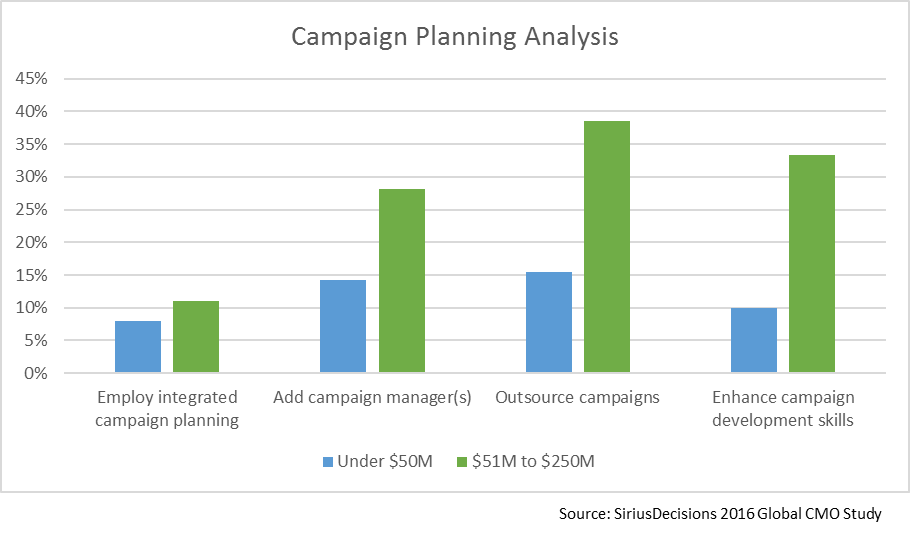 The key words in that definition are "series of activities." A campaign integrates reputation (building awareness, interest and urgency around a theme), demand creation (sourcing and nurturing demand based on the theme), sales enablement (helping progress opportunities sourced by the theme) and market intelligence (building knowledge of external targets and internal audiences) programs and activities over an extended time. SiriusDecisions has done a lot of thinking (and publishing) on the topic of B2B marketing campaigns.
However, it appears from the findings of our 2016 Global CMO study that emerging companies (less than $50 million in revenue) have no firm definition of campaigns. Compared to companies with $51 million to $250 million in revenue, emerging companies are 38 percent less likely to use the campaign planning process and 97 percent less likely to add campaign managers to the marketing organization. In addition, they are 150 percent less likely to run campaigns through external providers and 233 percent less likely to enhance campaign skills to manage a third-party provider.
What is not obvious in the data is if emerging companies lack an understanding of the importance of campaigns or they think it is not possible to run campaigns with their limited resources. In fact, the campaign framework maximizes limited resources. Having someone responsible for campaigns (whether a dedicated individual or a portion of a resource) to oversee and coordinate planning, execution and measurement processes helps integrate campaign programs, connect functions and solve the problem of having to support disconnected product messages and activities. A lack of understanding and adoption of the campaign framework also impacts sales enablement activities, because emerging companies are 16 percent less likely to increase sales enablement spend than companies with $51 million to $250 million in revenue.
Campaigns should be focused on a buyer need, not a product or solution, but most emerging companies take a product-centric go-to-market approach to campaigns. Companies with less than $50 million in revenue are 198 percent less likely to prioritize the shift from a product-centric to an audience-centric approach than those with revenues of $51 million to $250 million. The biggest challenge with a product-centric approach is that it aligns to the seller's needs, not the buyer's. Emerging companies should embrace the campaign framework to better align with buyer needs and to improve alignment between marketing, sales and product for improved output and impact through more tightly integrated programs and tactics.
The best way to implement the campaign process with the limited resources of an emerging company is to assess the current state of marketing programs and identify a suitable pilot campaign. The experience gained from conducting a pilot can accelerate broader adoption of the campaign process and facilitate the shift to an audience-centric approach. After the pilot and subsequent B2B marketing campaigns are successfully planned, implemented and measured, a viable option for emerging companies is to restructure the marketing organization around the campaign framework, with individuals dedicated to reputation, demand creation, sales enablement and market intelligence programs and activities.