CI FAIL: The Valentine's Day Edition
Despite being something of a romantic, I don't really go in much for the so-called "Hallmark Holidays." In fact, this XKCD comic sums up my feelings rather perfectly: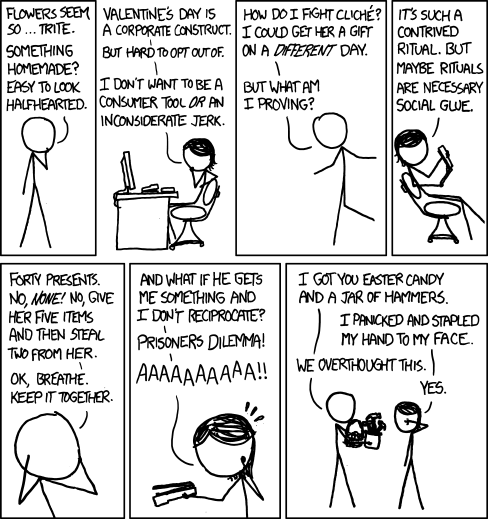 Still, I'm very aware that lots of other people enjoy Valentine's Day, and that it's a holiday that's just begging for CI pros to get more strategic about. Leveraging shared wish lists is one use case I really like, as is intelligent (read: permission-based) householding. Imagine, for example, a travel company that enables a couple to "gift" each other a special dinner or spa treatment during a shared vacation.
But sometimes, CI goes horribly awry, as I recently experienced with Proflowers.com. I offer Exhibit A:
This email was sent to my email address, but addressed to my ex-husband. It's not hard to understand how this could happen: householding snafus might sometimes create a false connection between an email address and a first name, for example. In the grand scheme of things, if I was going to put CI Fails on a TSA-scale rating, I'd give this one a very bright yellow.
But embarrassingly (for all involved) it got worse. Just a few days later, another of Proflowers' brands, Shari's Berries, sent me this email:
In case it wasn't obvious? I'm not Kimberly.
ProFlowers emailed me an offer targeted to my ex-husband to give his ex-girlfriend a dozen chocolate-dipped strawberries. There are so many ways that Proflowers could have caught this error, but they didn't; as a result, they've lost several customers for life.
CI practitioners must remember: businesses that aim for personalization must be ABSOLUTELY certain that their approach to managing customer data and using it to personalize messaging are above reproach.
SSource: XKCD (http://xkcd.com/1016/)
Categories