Empowered Customers Seek Three Types Of Brand Experiences
In 2023, Empowered Customers Are Engaging Differently With Brands
In 2016, we introduced Forrester's Empowered Customer Segmentation, based on consumer behavior we've been monitoring and analyzing since the 1997 launch of Forrester Analytics' Consumer Technographics® survey data. This segmentation framework groups consumers along several dimensions of empowerment, such as being open to new experiences, having advanced device behavior, and harboring high digital expectations of brands.
We've updated the model with the most recent data, assessed the findings in light of the unique health and economic environment we've found ourselves in for the last couple of years, and compiled our insights and recommendations in our new report: Today's Empowered Consumers Seek Novel And Hybrid Experiences. The report showcases significant behavioral insights, especially among the critically important Progressive Pioneer segment, that can help marketers build strategies and experiences to meet the needs of their customers better.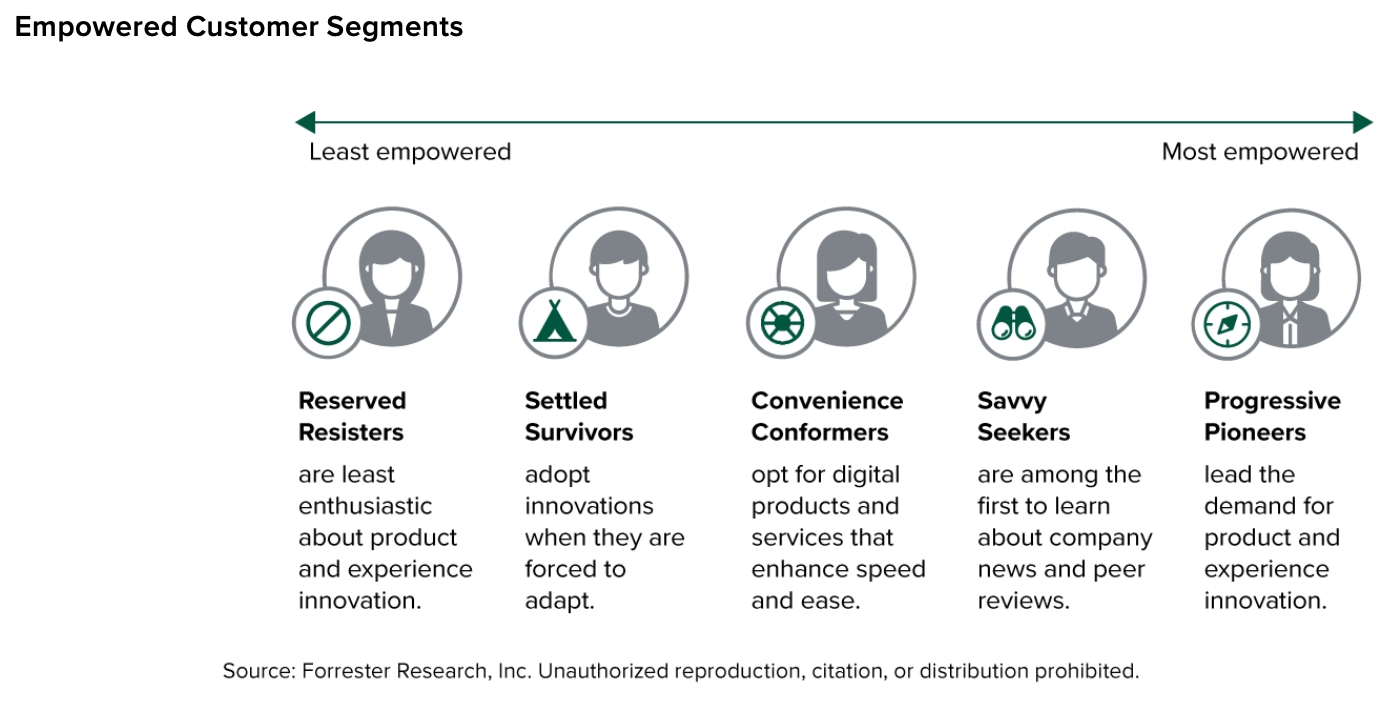 Progressive Pioneers Are Vital To Your Brand Strategy
Of the five groups in our segmentation model (see the accompanying chart), the Progressive Pioneers are the most empowered and savvy, accounting for 27% of the US population. The ample size of this segment, combined with its progressive disposition toward technology and experiences, makes it an excellent petri dish for innovation.
Consider this: Only one in five households subscribed to cable TV in 1980. Yet these pioneer consumers of entertainment set the tone for the evolution of the category — from CNN in 1980 to the mercurial rise of streaming and the calamitous fall of Quibi. By tracking and understanding the behaviors and attitudes of Progressive Pioneers, companies can generate invaluable insights to steer their product and experience innovation.
Progressive Pioneers Seek Out Three Types Of Experiences
In our 2023 update of the Empowered Customer Segmentation, we found that Progressive Pioneers actively sought experiences that were:
1. Hybrid.
To be tech-savvy is not to gorge on technology. Instead, empowered customers seek experiences that match their needs. Most Progressive Pioneers, for example, purchase in stores more than they do online. Seventy-three percent, however, seek information about product availability before purchasing in-store. The data reveal that more empowered segments aren't necessarily more averse to physical interactions but are more interested in using digital tools to enrich the overall experience. 
2. Empowering.
Today's consumers show high self-efficacy: 61% of US online adults feel confident that they can find the resources to get what they want, and 62% believe they can solve difficult problems. Self-efficacy is one of the core dimensions that define empowerment, and Progressive Pioneers are the most empowered. At a time of economic uncertainty, these empowered consumers seek brands that fuel self-efficacy and empowerment. 
3. Enriching.
Progressive Pioneers are highly discerning and set a high bar that brands struggle to meet. For example, most Progressive Pioneers say that private-label brands offer better value than name brands, and a staggering 66% trust the quality of private labels as much as they do of name brands. To win with these empowered customers, brands must deliver enriched experiences that provide differentiated value on one or more economic, functional, experiential, and symbolic dimensions.
Forrester clients: To learn more about how the attitudes, preferences, and behaviors of all of these empowered customer segments, including the Progressive Pioneers, should shape your brand experience strategy, read our recently published report. Please request a guidance session if you have questions about this research or want to explore how your company can better create brand experiences.
Categories