Enabling B2B Remote Teams
Join SiriusDecisions in Austin this November for the second annual Technology Exchange
Learn how remote teams can collaborate on projects, planning, workflows and approvals
Discover capabilities to facilitate distributed communication and collaboration
Technology and a globalized economy have led to dramatic changes in the way we shop. As consumers, we are accustomed to seeing a pair of shoes in a store that piques our interest and later researching those shoes on the retail Web site from our tablet. We are no longer surprised when clicking on the image of that shoe instantly changes the online experience. All of a sudden, we are presented with images of similar shoes or even a coordinating outfit, and the retailer captures that experience for us to easily access later. If we wait to purchase, we expect to receive targeted emails or see display ads when we log into our home computer, reminding us of the items we looked at earlier – just in case we're ready to buy. We now expect to be able to move seamlessly across various shopping environments from store to online.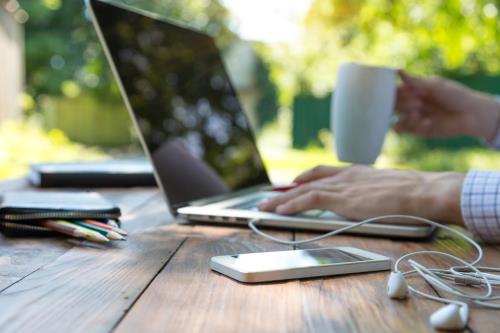 These B2C experiences have affected us as consumers and as employees in our busy professional lives. We therefore have similar expectations that we should be able to seamlessly move across professional environments and work from anywhere. If I am working on a project at the office, I expect to have access to the same applications and files from my tablet or cell phone and be able to collaborate remotely with colleagues via a seamless digital experience. To facilitate this transition, B2B professionals must approach it as a given that they need to evaluate tools and technology to enable remote teams.
The number of employees who work at home (not including the self-employed) has grown by 103 percent since 2005, with 3.7 million employees now working remotely at least half the time. Whether your teams are working in their pajamas, at the local coffee shop or at various client sites, all marketing, sales and product roles require a seamless working experience.
During our presentation at the upcoming SiriusDecisions Technology Exchange on November 15–17, we will explore considerations for easing the challenge of enabling remote teams. There will be tips on processes and etiquette to support effective communication, ways to evaluate the range of new tools and technologies, and ideas to optimize the tools already in place. From facilitating the planning process to maintaining productivity to enabling real-time communication, learn how to streamline the integration between these solutions. Collaboration has become complicated, as teams now plan and execute across headquarters, regional offices, home offices and public places. But evaluating the necessary tech stack does not have to be complex. Learn more at the SiriusDecisions Technology Exchange in Austin.