Everyone Does It, No One Owns It
Multiple people and functions have their hands in go-to-market strategy and execution, but no one seems to own it
This represents a missed opportunity for B2B organizations and a clear sign that alignment issues exist
Our eight years of benchmarking data show that for B2B companies, growing faster than peers requires cross-functional alignment
The comic Family Circus has three lesser-known characters in the family: Not Me, Ida Know and Nobody. Whenever one of the children does something but doesn't want to take responsibility for it, one of these pint-sized ghosts appears around the children.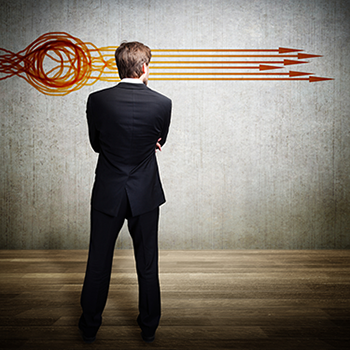 We see a similar approach with go-to-market activities in some B2B organizations. Multiple people and functions have their hands in go-to-market strategy and execution, but no one seems to own it. It's a huge missed opportunity for B2B organizations and a clear sign that there are alignment issues – or there is no alignment at all.
Why should you care about alignment? Eight years of benchmarking data tells us that for B2B companies, growing faster than their peers requires cross-functional alignment. Unlike market growth, competitiveness and efficiency, alignment is the only growth factor that your organization completely controls. Alignment provides that extra advantage and is responsible for between 5 percent and 36 percent of B2B growth. That amount translates into as much as 19 percent faster revenue growth and 15 percent more profit for aligned B2B organizations.
To get started on the journey to alignment, adopt a fact-based model that promotes defined roles and responsibilities, best-in-class processes and cross-functional interlock. Many clients that come to us with alignment issues start with the SiriusDecisions Product Marketing and Management (PMM) Model. One of the key advantages of this model over others in the market is the inclusion of sales in the alignment process. Just because portfolio marketers and product managers are at odds over who owns what doesn't mean that sales and other marketing functions aren't impacted. In fact, this is likely a root cause of sales and marketing performance issues.
The portfolio marketing team (including product, solution, services, industry and business unit marketing) frequently takes the lead on internally socializing the model and customizing it to the organization's needs. Set internal expectations appropriately, as alignment doesn't happen overnight. Many of our high-performing B2B clients target the right marketing, product and sales executives to get buy-in and then quickly run workshops with key stakeholders from those teams to keep the momentum going. The workshops serve to educate, include and empower the teams. Clients that take this approach report several long-term benefits:
More efficient execution. Stakeholders who are part of the process don't have to be briefed as much along the way in go-to-market execution, and programs don't have to be retooled at launch due to a lack of understanding and support.
Better collaboration. When everyone feels like they are part of the plan and has ownership in it, they abandon their silos in favor of the greater good. This includes making collaborative decisions about target markets and audiences and then aligning to execute accordingly.
Buyer epiphanies. Alignment often leads to sudden buyer realizations, such as discovering that no one knows who the real buyer is, or that sales and marketing are targeting completely different buyers. These epiphanies help to identify programs that are not working, stop them and refocus those resources on what matters to the buyer.
Portfolio marketers as experts. Many portfolio marketing teams that struggle with the rest of the organization understanding their role start to see internal perceptions change. After this initial alignment exercise, portfolio marketing is viewed as more strategic and respected for their go-to-market leadership and expertise.
This approach to alignment is one that we see repeated successfully across B2B organizations of all sizes in all industries. To learn more, view John Neeson's OnDemand Webcast titled, The Economics of Sales/Marketing/Product Alignment and then leave us a comment and let us know your thoughts.
Categories