Five Components of an Evolving Preference Management Strategy
Preference management enables organizations to use data privacy investment to deliver compliance and choice to prospects
Integrate consent management and preference management, and connect all programs and prospect touchpoints to the preference center
Follow an agreed-upon "evolution" plan as part of a coordinated approach to improved contact engagement
I have written about it in previous blog posts, and no doubt in the future, I will continue to write about the changing personal privacy regulatory environment being introduced by governments around the globe (e.g. GDPR in Europe, AAPI in Japan, Privacy Act in Australia and PIPEDA in Canada). We at SiriusDecisions believe that these laws, in conjunction with a greater awareness of personal privacy in our private lives, will act as a catalyst to drive awareness of the importance of adopting a comprehensive preference management strategy. Preference management extends beyond the opt-in process to encompass an expansion of the preference center and proactive management of the flow of data into and out of the organization. However, to become pivotal to the organization in terms of investment, usage and focus, an effective preference strategy requires the development of five factors. This strategy cannot be developed overnight, but to avoid lack of progress, we suggest that companies follow an agreed "evolution" plan covering basic, expanded and advanced stages as part of a coordinated approach to improved contact engagement.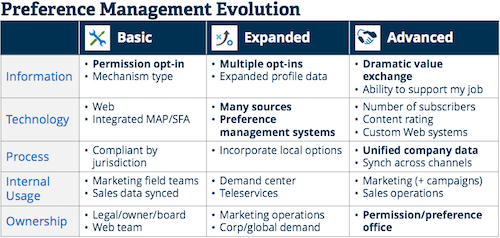 Information. Consider the degree of content focus and the direction of information exchange. Move from single contact consent control to the capture of multiple mechanism opt-in (e.g. telephone, text) and more pertinent personal data to drive an improved two-way "conversation." Align content creation to deliver value to the contact in line with recorded preferences.
Technology. This area is undergoing rapid transformation as solutions in relatively new technical categories (e.g. consent management, preference management, data mapping) are made available. Many organizations start by adopting standard preference center templates from within a marketing automation platform (MAP). These suppliers may expand offerings in time but will rapidly need to consider surrounding an existing technology stack with consent management systems to cope with multiple and geographically dispersed data instances (e.g. MAP, sales force automation platform, event management system). Evaluate specialist preference management systems, which offer greater flexibility for an expanded preference strategy. Consider also the requirement to capture, use and maintain consent gained from non-Web sources (e.g. telephone recording, client meetings). Finally, investigate systems that allow greater personalization and evaluation of the preference center's effectiveness (e.g. content rating systems, engagement tracking).
Process. A minimum process requirement is to ensure compliant data governance per jurisdiction. While technically this can be rapidly expanded to cater to local offerings (e.g. language, specific content), ensure that alignment exists with planned campaign and content development. Failure to do so results in poor delivery against a subscriber's preference expectations. Expand data unification across other functional channels to coordinate and make better use of known preferences that exist within the company.
Internal usage. Initially, field marketing teams will be the primary users of preference data, and sales teams should be encouraged to use and supplement the information that's available to improve prospect communication. Over time, greater usage of preference data can be made by central and regional demand centers, campaign and tele teams as an input to planned activity to drive improved interactions.
Ownership. All captured data preferences are naturally owned by the company owners, and for a purely consent-based capture, day-to-day ownership will reside with a Web team. As usage expands and impacts other disciplines, ownership may be transferred to marketing operations or a global demand center. Ultimately, as its importance grows and expert coordination of all elements becomes more sophisticated, consider staffing a dedicated permissions/preference office.
As marketers and sales reps, we know that if we want to continue driving growth, we must shift our focus onto winning and retaining prospect opt-ins with every interaction. As our engagement with prospects and customers develops, a renewed evaluation of the benefits of modern preference management is required. I invite you to join me and my colleague Isabel Montesdeoca for a webcast, during which we will discuss data privacy and preference management.
Categories