Forrester's 2023 US Federal CX Index™ Reveals Uneven CX
(written with Daniel Portillo, senior research associate at Forrester)
First, the good news: US federal customer experience (CX) remains steady amid an unprecedented two-year decline in average CX quality in the US private sector (link for Forrester client access only).
Now, the not-so-good news: Federal CX remains, on average, the weakest among the 13 verticals we studied. Deeper analysis reveals that federal agencies deliver uneven experiences across channels and demographic groups.
Overall Performance Is Steady — But Shaky
The 15 federal agencies and programs that we studied in our 2023 Customer Experience Index (CX Index™) earned an average score of 61.9 on our 100-point scale. Even though federal CX remains statistically unchanged from 2022, the federal government has a long way to go to provide experiences that are comparable to the private sector. Even more concerning is that, despite federal agencies' years-long focus on improving digital CX, it continues to lag both physical and hybrid CX. Federal customers who engaged using only digital channels (e.g., via mobile app or automated phone system) had a CX Index score of 58.0. Customers who interacted using only physical channels (e.g., in person or via a live phone call) had a score of 64.5, while customers who used a combination of digital and physical channels had a score of 63.6.
Experience Gaps Widen For Most Demographic Categories
Of the six demographic categories we analyzed, the demographic category that widened the most was political party. The gap between best and worst CX grew by 5.5 points year over year to a 21.1-point difference. Only one category — income — saw a shrinking gap between best and worst CX. The gap narrowed by 3.7 points year over year to a 7.1-point difference. The largest gap occurred within the gender demographic category, where the gap grew over 5 points year over year to a 22.8-point difference.
These Shortcomings Matter
Improving federal CX is a White House priority. More importantly, however, our research indicates that the quality of an agency's CX has an effect on customer behaviors, which in turn affect that agency's ability to accomplish its mission. Falling short on CX means that customers are less likely to take important actions such as trust agencies and comply with their directives and advice.
Want to learn more about the 2023 federal CX Index? Clients can listen to this recent webinar and check out our new report. Forrester clients can also request an inquiry or guidance session to go deeper.
Not a Forrester client? Contact your Forrester account team and tell them "I want Forrester Decisions!"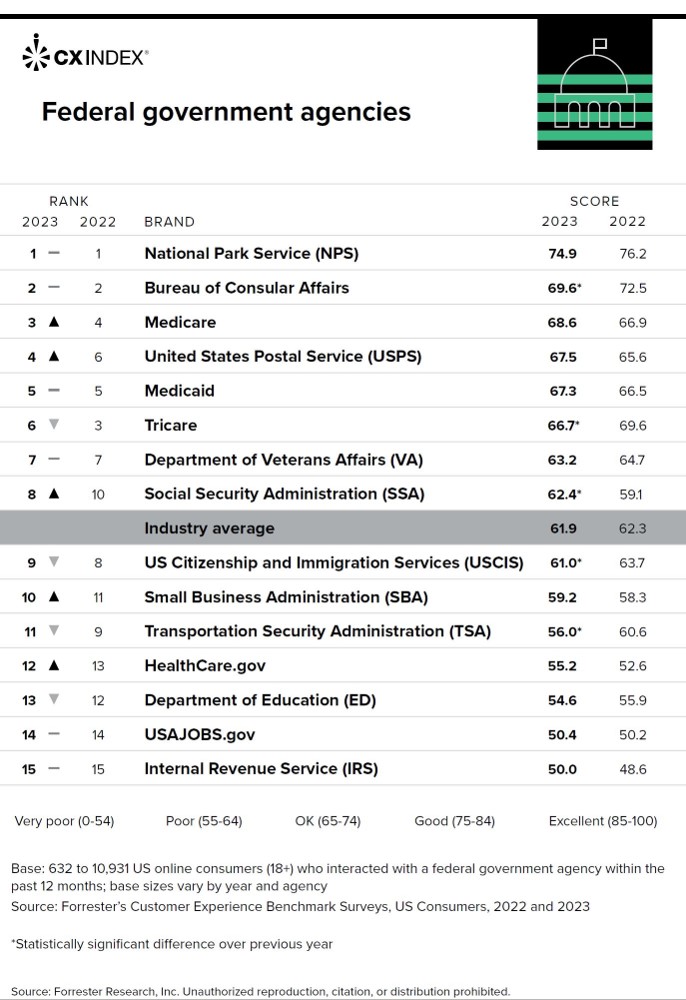 Categories