Four Reasons to Review Your Agency Mix (Hint: Not Just for Poor Performance)
B2B organizations are increasingly outsourcing functions and tactics to.communications agencies and service providers
Agency relationships can be difficult to manage due to personnel shifts and changes in strategy
Several types of internal changes can affect whether or not an agency should be used
As marketing and communications practices become more specialized, companies are increasingly outsourcing many functions and tactics to communications agencies and service providers to augment staff capabilities, focus team members on core activities or acquire strategic capabilities. But agency relationships can be difficult to manage – from dealing with personnel shifts on the account team to navigating strategy changes from the client side.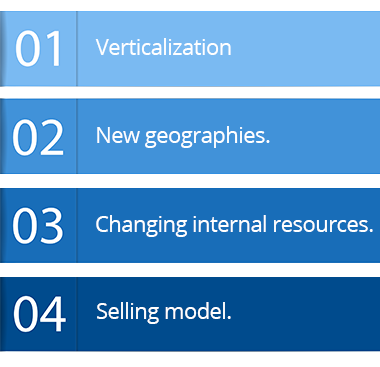 As a result, some of the questions we hear frequently at SiriusDecisions include "When should I evaluate my communications agency resources?" and "Do I have the right agencies in place to fit my new marketing needs?" Certainly, poor performance is cause for reviewing an agency relationship, but there are several other reasons to do so. Various types of internal changes can impact the agencies that could – or should – be used. Here are some of the most common reasons:
Verticalization. As agencies develop more specialization around buyer personas, you may need to re-evaluate agencies if your company decides to shift its target markets. For example, if you're a B2B technology company that has traditionally sold across markets but is changing its go-to-market strategy to focus exclusively on the healthcare market, you'll want to make sure you have agencies on board that can help guide you through the transition and succeed with this new focus.
New geographies. Regional priorities can shift on an annual basis, especially for territories outside of the headquarters region. When a territory's importance is downgraded, it may make sense to lessen investment in that region's agencies. Further, if your company is increasing its reliance on regional channel partners, you'll need agencies that understand the channel partner dynamic and can create content or campaigns that can be repurposed by the partner team.
Changing internal resources. As you grow your team or shift team members, your in-house expertise often changes. For example, if you've just added a team member with graphic design skills, you can re-evaluate the design activities your agency handles. Conversely, if your analyst relations manager is moving on to another job, many of these activities could be absorbed by a public relations agency.
Selling model. If your company is changing its sales model, consider the impact on the agency partners you'll need. For example, does your current social media agency have experience working with a company that sells mainly through the channel? Does it have the expertise to help you market effectively to and with channel partners?
Looking at your agency mix is an important step in the agency lifecycle relationship. Often, agencies have capabilities that can meet your new or shifting needs. But it is important to be upfront and direct with the account leads in these conversations.
Finally, keep in mind that reviewing your agency mix doesn't necessarily mean that you're going to need to completely change all your agency resources. But it is important to ensure that your agency partners remain abreast of any changes and remain the best business partners.
Categories