Healthcare Spotlight: Marketing Organizational Design
Data from SiriusDecisions' 2018 Global CMO Study shows that 94 percent of B2B marketing leaders plan to change their marketing organization
Of that 94 percent, 33 percent plan to rebalance resources to optimize performance
Effective marketing organizational design requires robust processes, strong support and business-relevant KPIs
Editor's note: This is the second in a series of blog posts that describe how B2B healthcare leaders are driving results with innovative marketing, sales and product strategies. Although the approach of each blog post may vary, the concept is consistent: examining what's really working for B2B and B2B2C healthcare leaders today, on the basis of SiriusDecisions clients' priorities and progress.
One of the major areas of opportunity in which SiriusDecisions has seen organizations achieve success is the structuring of marketing to drive key priorities. High-performance marketing organizations must be aligned across functions to deliver on key business strategies and plans. I see many healthcare CMOs looking to improve the strategic and operational relevance of marketing. This entails transforming marketing to meet diverse strategic objectives, such as improving brand relevance and reach, driving growth with sales, better understanding customer needs, creating relevant content and campaigns to accelerate growth, and improving post-sale customer experience. Meeting these objectives in today's competitive healthcare environment requires sharp focus, making robust organizational design a fundamental enabler.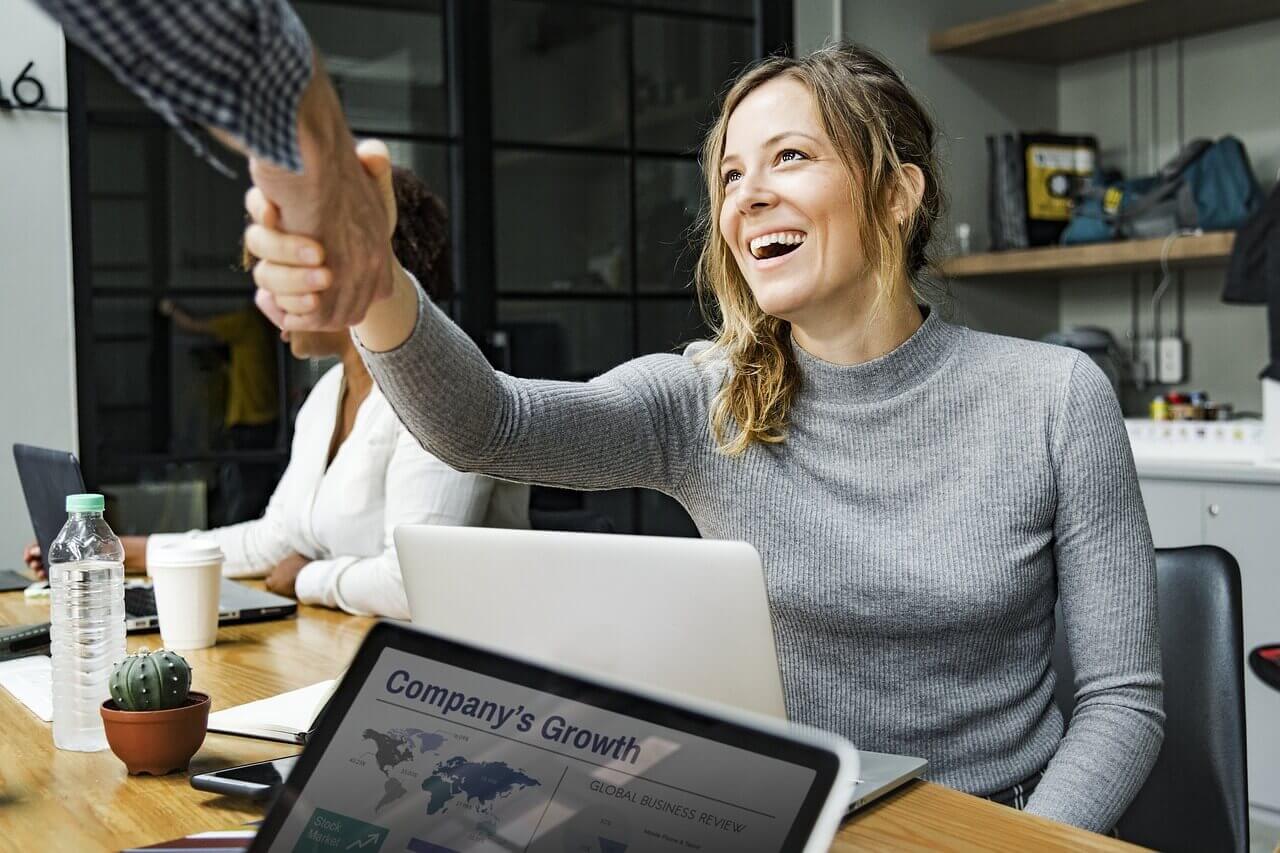 Marketing leaders drive performance by deploying leadership best practices, enabling individuals and teams, and optimizing workflows that tie them together. SiriusDecisions' Eight Cs of Effective Organizational Design supports their efforts by providing a systematic approach to organizational design that aligns marketing to the company's growth plans. Each pillar of the model contains activities, deliverables, and supporting frameworks and tools designed to optimize performance. Organizations that implement this model create a marketing organizational structure that is balanced, scalable and aligned to their objectives. The pillars represent essential actions to take, including:
Clarity. Define the objective of the organizational design initiative and how it supports the achievement of overall business goals.
Competency. Determine the knowledge, process, skills and tools required to support organizational and functional objectives.
Concept. Develop a blueprint of the workflows required to support the marketing ecosystem.
Capacity. Assess the organization's current bandwidth and outline a plan for what additional internal and/or external resources are needed to optimize performance.
Cost. Identify and assess the costs associated with closing organizational gaps as well as the costs associated with staff enablement.
Chart. Devise, publish and execute the new organizational design by function, team and role.
Calibrate. Evaluate and report on the effectiveness of the organizational changes.
Communicate. Outline a communications strategy to keep internal and external stakeholders informed during and after deployment of the organizational design initiative.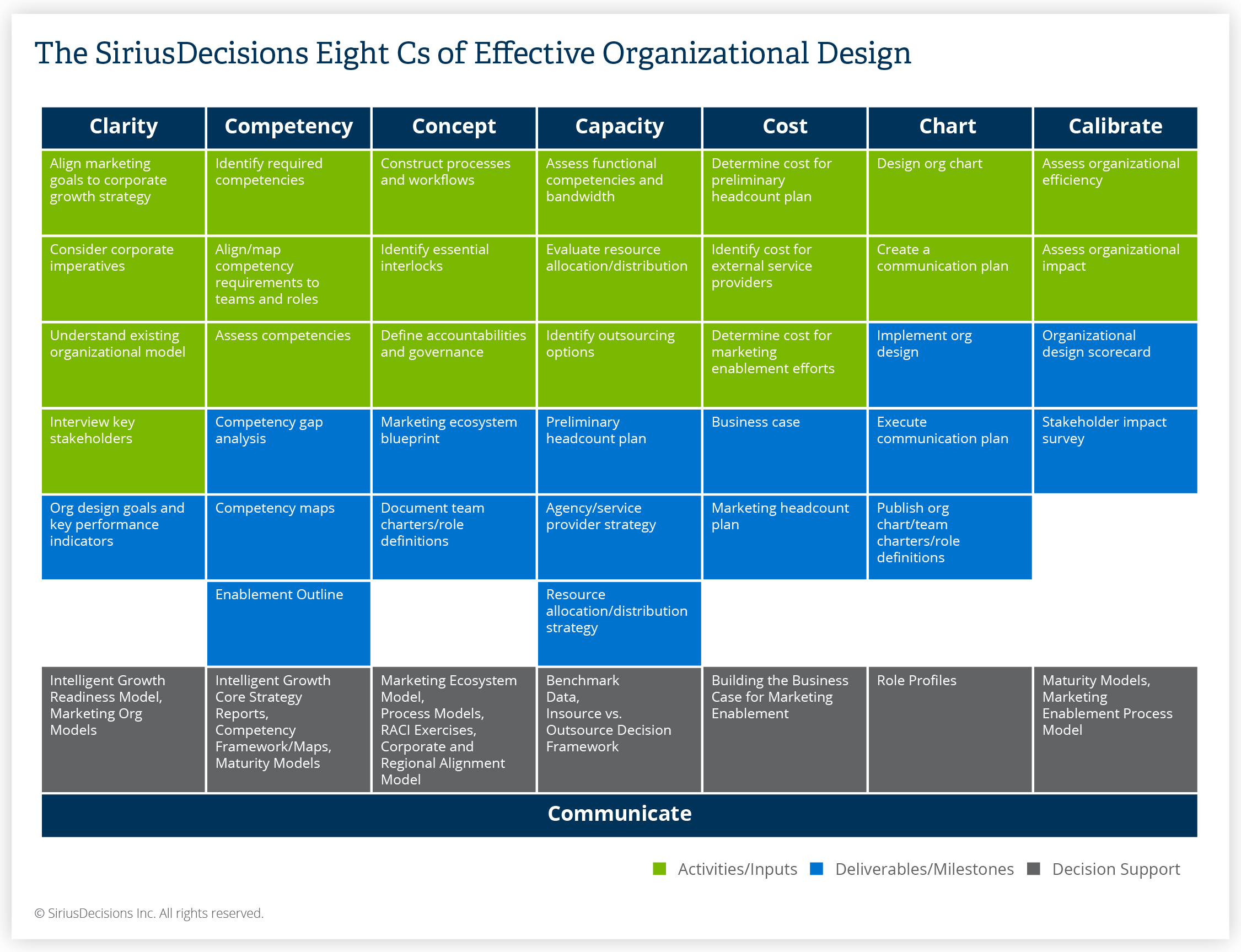 Implementing the Eight Cs Model: A Client Example
PerkinElmer, a global medical device, diagnostics and life science environmental firm, deployed the Eight Cs of Effective Organizational Design model to guide its reorganization. Marketing was split across five areas of the company. The dispersed teams were not working well together – significant replication of activities made the impact of marketing unclear. Marketing was very product-centric, focused on collateral and data sheets. Recognizing these issues, PerkinElmer hired Steve Hardy as its vice president and head of marketing to transform marketing into an aligned, high-performance organization.
Steve and his leadership team collaborated across functions to reposition marketing around key business objectives for revenue growth and understanding emerging customer needs. The team used multiple SiriusDecisions templates and tools to analyze and improve competencies, such as competency maps, maturity assessments, role profiles and functional descriptions. When developing the new organizational blueprint using the SiriusDecisions Marketing Ecosystem Model, Steve and his team established centers of excellence (COEs) for portfolio marketing, global campaigns and marketing operations, and an integrated demand center to drive focus, share best practices and enhance operational efficiencies. Steve worked closely with the HR leader and CFO to assess needs and bandwidth, shifting 24 people and increasing the organization's headcount by 12 percent. The team developed a set of KPIs to monitor progress of the new organization and deployed a multimedia communications plan to keep employees informed and ensure their comfort with the changes.
One year after implementing its new marketing organization, PerkinElmer is benefiting from shifting marketing's focus from developing collateral to creating and accelerating sales pipeline opportunities, accelerating marketing's impact in turn. One-third of marketing employees have assumed new roles, and the organization has more than 20 new hires. As part of the transformation, PerkinElmer's demand generation focus has shifted from marketing qualified leads to sales opportunities and wins, and the results are impressive:
Marketing-created opportunities approached $750 million
Marketing-sourced and marketing-influenced revenue increased 59 and 42 percent, respectively
Conversion and win rates are trending higher
All marketing employees now have individual learning and development plans
Employee attrition has decreased significantly and employee engagement is greatly improved
"We used the Eight Cs of Effective Organizational Design and Marketing Ecosystem models extensively to consolidate and reorganize marketing, and SiriusDecisions data points to show how effective various organizational structures were," said Steve. "SiriusDecisions helped me build a case for change."
As this example indicates, structuring a high-performance marketing organization requires a robust process to ensure marketing objectives support cross-functional business goals. Successful marketing leaders understand and fill competency gaps, build needed teams and COEs, assess bandwidth and investment issues, establish KPIs to drive continuous improvement, and communicate broadly to the organization.
When assessing the current state of your healthcare marketing organization and the change management required, start with a solid process and tools to guide the transformation. Though it may not be easy, you'll see significant benefits from upskilling marketing to a better aligned, high-performance team.
Categories