How Can B2B Marketers Use Augmented Reality?
Widespread knowledge of augmented reality exploded this summer with the launch of Pokémon GO
B2B marketers need to understand the potential uses of augmented reality and be familiar with the platforms and capabilities
To compete in the current market, plan to experiment with a pilot in 2017
During a business trip this past July, I had a remarkable experience in a parking lot in Detroit.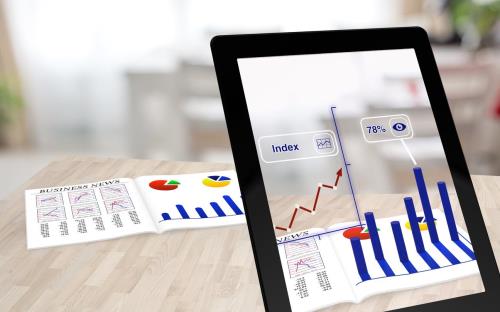 It was two days after Pokémon GO was released, and I watched with amazement as people wandered around the hotel and adjacent movie theater parking lot with their cell phones poised in front of them, chasing and catching Pokémon. As an avid follower of augmented and virtual reality for many years, I was thrilled to see business professionals alongside groups of kids getting their first glimpse of augmented reality.
Although the use of Pokémon GO peaked merely one week after its release (yet still has more than 30 million current players), augmented reality is not a fad and will not be peaking anytime soon. Distinct from virtual reality, which immerses the viewer in a simulated world, augmented reality overlays the real world with digital input (e.g. the line of scrimmage displayed on a football field during broadcast games).
Now is a good time for B2B marketers to understand the capabilities of augmented reality and start to play with the technology. Progressive marketers have already started to explore the possibilities using mobile devices such as smartphones and tablets.
A great use of augmented reality is the placement of a product into an environment. Siemens France's use of the Augment app for interactive brochures is a good B2B example. Customers can use the mobile app to take a picture of a valve in a printed brochure or on a screen, and a rendered image appears on the user's phone over a live image of what the camera is pointed at (just like a Pokémon image). The customer can then compare the new valve product to what he or she currently uses by viewing the rendered image next to a live camera view. Customers can also select a 3D option that replaces the camera image with a model that can be manipulated (e.g. rotate 360 degrees, zoom in) so that the product can be inspected in detail. Interactive brochures enable sales reps with a lot of specialty products to make the world's biggest sample kit available with nothing more than a smartphone and a free app, and represent a new sales enablement or nurture marketing tactic for marketers.
Another use case is the ability to provide more information on demand. One of my favorite examples is the HP Aurasma smartphone app, which allows the user to take a picture of a book cover that launches a video of the author giving a synopsis of the book, and of course encouraging you to buy it. This type of augmented reality opens up an entirely new, highly measurable multimedia content offer.
More sophisticated augmented reality will come into play when wearable products such as Microsoft's HoloLens become readily available, opening up a new world of hands-free and gesture-enabled possibilities. Real products could be overlaid with product modification prototypes – a boon for any organization's development effort, but especially those in customization. For B2B marketers, the technology will likely have internal uses (e.g. seeing a trade show set-up) for some time before it is ubiquitous enough to use in prospect marketing scenarios.
Augmented and virtual reality are on our radar as technologies set to disrupt B2B marketing in the next five years – so marketers should learn and experiment with the technology now. The good news is that there are several very good augmented reality platforms and customer examples that are free to download and try. As you solidify your 2017 plans, consider putting aside a small budget to experiment with a pilot.
Augmented reality is just one of the disruptive technologies B2B marketers should be watching. To learn about others, please join us in Austin at SiriusDecisions Technology Exchange on November 15–17!
Categories