How Product Teams Understand Customer Needs for Innovation
SiriusDecisions has been conducting research on how product teams should identify and prioritize customer needs for innovation and go-to-market
Our new survey provides the chance to give input on the processes and techniques product managers and marketers use to understand customer needs
Our research shows that organizations struggle with defining responsibilities and establishing a consistent process for understanding needs
As the parent of three young kids, I'm familiar with the phrase "I need." On any given day, my children are not shy about telling me the things they "need." Any parent knows that these can range from things your kids truly do need, like help tying their shoes or reaching something on a high shelf, to things they "need" (emphasis on the air quotes), like ice cream or permission to watch a movie at 8:00 p.m. on a school night. Of course, there are also things that, as their father, I know my kids will need, though they are unlikely to ever ask me for them.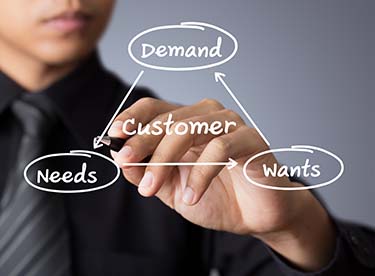 The process for understanding and prioritizing children's different types of needs draws a lot of parallels to understanding customer needs in B2B environments. Through my own experience as a parent, I've learned that the process with children is actually fairly straightforward (despite how parents of newborns may feel!) compared to how this process works in B2B.
My colleague Rachel Young and I have been conducting research for the past year on how B2B organizations understand customer needs and apply them to product innovation. We will be unveiling this research at SiriusDecisions Summit in May as part of our presentation The Art and Science of Identifying and Prioritizing Customer Needs.
We've just launched a short five-minute survey to gather additional data on how well companies understand different types of customer needs for use in the innovation and go-to-market process, and the techniques product managers and marketers use to understand and respond to these needs. Specifically, we're looking to learn the importance of different types of needs, the amount of time spent understanding them, the likely impact of better understanding of needs, and the different activities and sources used to understand needs. If you respond to the survey, you'll have the option to receive a summary of the results, which should be helpful in understanding how your organization compares to competitors.
Our research also included an earlier survey we conducted in fall 2015, in which we asked if product managers and marketers felt they had a consistent process for understanding, prioritizing and applying needs, and what their roles and responsibilities were for uncovering needs. We specifically asked about needs of buyers (the business decisionmaker on a purchase or those who are highly involved in the purchase decision process) and users (those who will be using a purchased product but who are not very involved in the purchase decision process). Here's some of what we found:
Less than half of the respondents indicated that they had a consistent process for understanding buyer needs, and less than half indicated that they do a good job of prioritizing the importance of one buyer need vs. another.
Overall, product managers and marketers indicated that they were better at understanding user needs than buyer needs.
Overall, respondents felt that they did a good job applying their understanding of buyer needs to marketing efforts, but they did not do a very good job applying their understanding of user needs to marketing efforts.
Respondents noted considerable lack of clarity around who had responsibility for understanding buyer needs, with responses distributed across product management, product/solution marketing and sales.
The responsibilities for understanding user needs were a bit clearer, with the majority of respondents indicating that user needs were the responsibility of product management, and a large percentage indicating that they were the responsibility of user experience.
Through our research, we have created a framework and process that organizations can leverage to anticipate, prioritize and address customer needs in the product innovation and go-to-market process. By participating in our survey on understanding customer needs for innovation, you'll have the chance to lend your perspective and get access to a summary of the results. Of course, if you'd like to be one of the first to find out more about our research, join us in Nashville this May!
Categories