If You Can't Beat 'Em, Buy 'Em
The lines between agencies, consultancies, and tech services firms are continuing to blur. This convergence is driven in part by an acquisition-heavy strategy. Like in 2017, the last year of acquisitions saw cloud and agency capabilities as most in demand. But what does this mean for buyers? Your go-to boutique agency may (soon) be part of a larger firm. Or your managed services partner likely has a whole new set of intelligent solutions that weren't even ideas yet when you signed the contract.
Services firms have been quick to buy to fill gaps in skill sets, solutions, or customer lists. SAP acquires CallidusCloud? Time for a new commerce specialist acquisition. Struggling with AI for NLP? There's a startup for that. Still haven't managed to convince the market that you can develop a modern digital strategy on top of implementation work? A midsized, industry-oriented consultancy might just get your foot in the door.
In 2018 alone, the services partners we track made over 100 acquisitions. In a recently published infographic, we break down the top trends in acquisitions and what that means for services buyers. Here's a quick snapshot: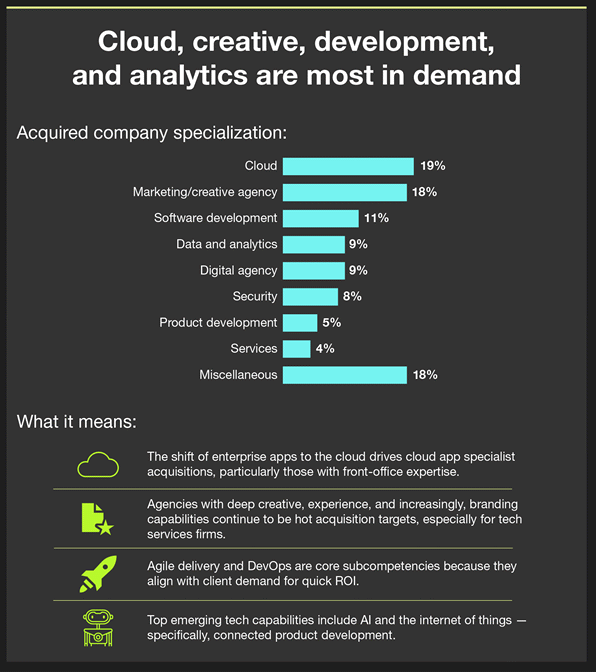 For more, Forrester clients can check out the full infographic here. And if you have more questions, Forrester clients can reach out via inquiry.
Categories