Leveraging Taboo Topics: How to Craft Meaningful Thought Leadership That Takes No Sides
When I spoke at B2B Marketing Exchange this February, I had the pleasure of spending time with one of SiriusDecisions' clients, Christine Elliott, Content Strategy & Operations Executive for Crowe Horwath LLP.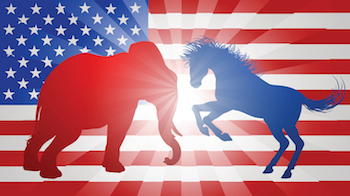 Crowe Horwath is one of the largest public accounting, consulting and technology firms in the United States, with a focus on audit, tax, advisory, risk and performance services. Christine was also a speaker at the event, and her presentation, "Using a Data-Driven Approach for Creating Messaging with a Measurable Impact," told a content success story by summarizing a content program built around the Dodd-Frank Wall Street Reform and Consumer Protection Act.
Later in the week, I had a chance to buy Christine a cocktail, and we got into an interesting discussion about Dodd-Frank and other election issues. Specifically, we talked about the challenge that highly politicized topics like this one present not only to the businesses affected, but also to the vendors that serve those businesses.
Dealing with regulatory issues is the status quo for businesses like Crowe Horwath. But when there's extraordinary focus in the public discourse around such issues, content leaders like Christine are faced with an interesting conundrum: how to leverage the topical momentum and engage in the conversation in a way that serves clients and positions the firm as a thought leader without a partisan viewpoint. While steering clear of politically charged issues may be a corporate PR reflex, sometimes a carefully constructed approach is worth the effort because of the value it can add for clients. Christine offered the following two examples.
Dodd-Frank
Christine pointed out just how critical participation in the Dodd-Frank conversation is for Crowe Horwath. "Our clients depend on us for our expertise in regulatory compliance," she said. "To support Dodd-Frank, we've developed a solution that streamlines the stress-testing compliance process for financial institutions. We know that even if Dodd-Frank is rolled back, this solution still provides strategic value to our clients by offering a capital planning tool to help forecast the impact of various macroeconomic or business changes – such as inflation or an acquisition. Given our investment in the space and our industry leadership role, taking part in this conversation isn't just a smart content strategy, it's our corporate responsibility."
By monitoring the conversation with a digital listening tool, Crowe Horwath was able to see that the focus of the Dodd-Frank discussion has shifted to whether it will be repealed. By continuing to send a compliance message, the firm knew it ran the risk of its solution becoming irrelevant, so it shifted the focus of its messaging to the strategic capital planning capabilities banks need to remain competitive in the long term.
Tax Reform
In another example of leveraging the political environment without taking sides, in 2015 Crowe Horwath's tax practice started to plan for tax strategy shifts juxtaposed against the lifecycle of the 2017 presidential campaign. A big part of the strategy was to present the multiple possible outcomes in play and provide impartial commentary and counsel on each.
Christine explained that the election scorecard campaign was a series of four direct mail packages following the election cycle. Early in the campaign cycle – leading up to the primary election – Crowe Horwath profiled the individual candidate viewpoints of both parties and pushed the content out in a scorecard format. After the primaries, the focus shifted to the presidential nominees' positions on federal tax reform, international tax policies, and state and local tax differences. The goal was to get ahead of, or at least parallel with, the news cycle and establish the firm's thought leadership analysis on the issue.
There was also a strong media relations play to provide value-added insights to the media on possible changes. "We have relationships with many of the influencers that are connected to Trump and Clinton," Christine stated, "and we have been opportunistic in taking action to get Crowe into those conversations and into media in general." An example of this is the inclusion of a Crowe Horwath executive's comments in a December 2016 issue of Time magazine.
Prescriptive Next Steps
As the new administration settles in and solidifies its plans, Crowe Horwath is preparing to lock in a viewpoint on the implications of a Dodd-Frank repeal and overall tax reform, and what actions organizations must consider. The firm is planning an outbound campaign with content it feels will be useful to clients in preparing for changes. Crowe Horwath is already moving forward with content that outlines strategies organizations should take to leverage the work they've done previously to comply with Dodd-Frank for competitive differentiation. "We believe that, regardless of regulatory requirements, our clients need to be prepared for rapid economic shifts," Christine said. "There's a huge opportunity for our clients to leverage the process and technology changes they've made to meet regulatory requirements to improve their businesses overall. So that's the conversation we will be having now and in the future."
Netting It Out
These examples from Crowe Horwath show that it's possible to leverage sensitive topics for high-reward content strategies with low risk. If you find that you have similar opportunities that beg the question of content risk vs. reward, consider the following guidelines:
Poll your audience and report the results objectively.
Focus on thought leadership and advice regarding the implications of any of the possible outcomes associated with the issue.
Consider the lifecycle of the issue and how you may be able to change your content approach as it evolves. Once an outcome is clear, you're in a better position to provide tactical advice.
Do you have a viewpoint on non-partisan thought leadership on politically charged issues? Share your thoughts with me on Twitter @PhyllisMusings!
Categories