Lipstick: How Pinterest Drives Sales Through Augmented Reality
(by Erin Sellers)
High level: Lipstick is fun. Augmented reality (AR) is fun. The quality of the experiences has improved dramatically since Apple and Google got involved a few years ago.
AR applications within the cosmetics industry have come a long way from the static capabilities we saw in 2011. Before, I could try out nail polish colors on a fake hand (that didn't even match my skin color). Now, the technology uses my camera to accurately render lipstick on my face from the correct perspective, tracking my motion and understanding the light in my environment.
AR continues to help consumers with product discovery and trial, often not possible with cosmetic products. Unlike with shoes or clothes, "try before you buy" is not a possibility for things like lipstick or foundation because of sanitary reasons.
Pinterest's first venture into AR is with lipstick try-on. As an aggregator of content, Pinterest's tool allows users to browse dozens of stock-keeping units (I counted 20) instead of a single brand. The try-on experience links seamlessly into the product page on the brand's website, all without having to leave the Pinterest app.
Buying new makeup is a chore: It's so hard to tell from a tiny swatch of color if it'll match my skin tone, so I end up guessing and buying a product only to get home, try it on, and have the color be wildly off. The process is so tedious to find a new shade of eye shadow or lipstick that I tend to avoid it altogether.
Enter Pinterest's newly launched AR experience: Users can virtually try on an array of lipstick colors without even entering a store. No more guessing (and returning) required. I recently had the opportunity to speak with Pinterest about their new "Try on" feature released in late January 2020. I'm impressed by the quality of the tool.
How The Try On Feature Works
Consumers can access the testing feature when searching terms like "Try on," "lipstick," or "makeup." After enabling your camera, you can "try" on a variety of different brands, colors, and shades of lipstick with the swipe of your finger. You can take a picture of yourself with the lipstick on and save it.
If you like a product, you can swipe up to reveal the product info, price, and see Pins of people wearing a similar shade. I can click on the product and go directly to the brand's product page to buy the product directly. The right color of lipstick is already selected, so I just need to add it to my cart and purchase = minimal effort. I love the simplicity of this.
It's worth noting that Pinterest's new feature lacks the AR application of any filtering or beautification to one's face. There are no flashy filters or redness reducers. For better or for worse, I can see exactly what a blue lipstick looks like on my face and confidently rule it out (no purchase required). The lack of this feature increases the usefulness of the product.
The quality of AR applications in the cosmetic industry has come a long way since we first saw applications nearly 10 years ago but remain on par with our evaluations in 2016. Early lipstick applications failed to render an accurate placement of lipstick on the user's lips. Now, Pinterest's Try on capabilities accurately match my lip shape even as I move. The light in my environment is also understood and impacts the color of the lipstick. When I use the tool in a dark room, the lipstick also appears darker, giving me a more realistic image of what the lipstick will look like. I'm eager to see if Pinterest will roll this feature out to other cosmetic product lines that I struggle to buy, such as mascara, eye shadow, or foundation.
I'm in the process of updating my AR research. If you are building consumer AR experiences, please get in touch with me at jask@forrester.com.
What we saw in 2011: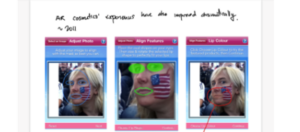 L'Oréal's Makeup Genius iOS app, 2016: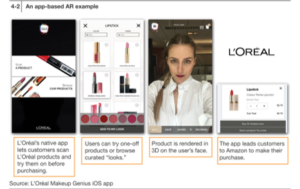 Source: "Augmented Reality: Emerging Tools To Explore" Forrester report
Pinterest iOS app, 2020: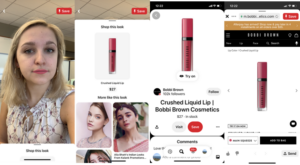 Source: Pinterest iOS app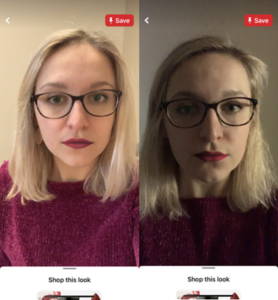 (Check out the same product in two different light environments. Today's technology incorporates the camera's light environment to adjust the 3D rendering.)
Categories